Kasamba Psychic Reading Review
Updated: Mar 23, 2022
We spent hours researching Kasamba.com to determine its most notable features, its pricing structure, and how it connects you with psychics available for psychic readings. Plus, we break down the pros and cons of using Kasamba.com, how it stands out from the competition, and its Trustpilot customer reviews.
Kasamba Overview
Kasamba has connected over 3 million people to professional psychics since they were founded in 1999. They stand out from similar psychic reading online platforms due to the sheer number of different services they offer — whatever type of psychic assistance you're looking for, you'll likely be able to find it here. Another reason to choose this provider is that you get three free minutes with any advisor that you're using for the first time.
One downside, though, is that they don't offer any live options for customer support. If you run into an issue that isn't addressed in the support material on their website, it may take some time to find a solution through their ticketing system.
Notable Features
Kasamba Features
Services Offerings
As mentioned above, Kasamba offers a wide variety of services. This includes popular options such as psychic readings, tarot readings, and fortune telling as well as more niche services like graphology, kabbalah, and feng shui. Also, if you're more interested in addressing your work life than your personal relationships, you should check out Kasamba's financial outlook and career forecasting services.
Specialties
Many of the Psychic Advisors on Kasamba specialize in love and relationships. Some of them even focus on specific aspects of love and relationships, such as dating, marital life, and raising children — this is useful for clients who are only looking for help with a single issue in their lives.
Reading Format
Kasamba offers several ways for clients to connect with their psychics. You can communicate with them in real-time via phone or Kasamba's live chat platform. There's also an offline option, which involves emailing questions to the Psychic Advisor of your choice.
Psychics
While there are hundreds of Psychic Advisors available on the site, Kasamba doesn't allow anyone to just sign up and start accepting clients. To become registered, Psychic Advisors must submit an application that describes their professional experience and get approved by Kasamba.
How Kasamba Works
Kasamba's website is divided into categories for their different types of advisors (psychic readings, astrology readings, etc.). Several of these categories are further divided into subcategories — for example, the astrology readings category is divided into Chinese astrology and Vedic astrology.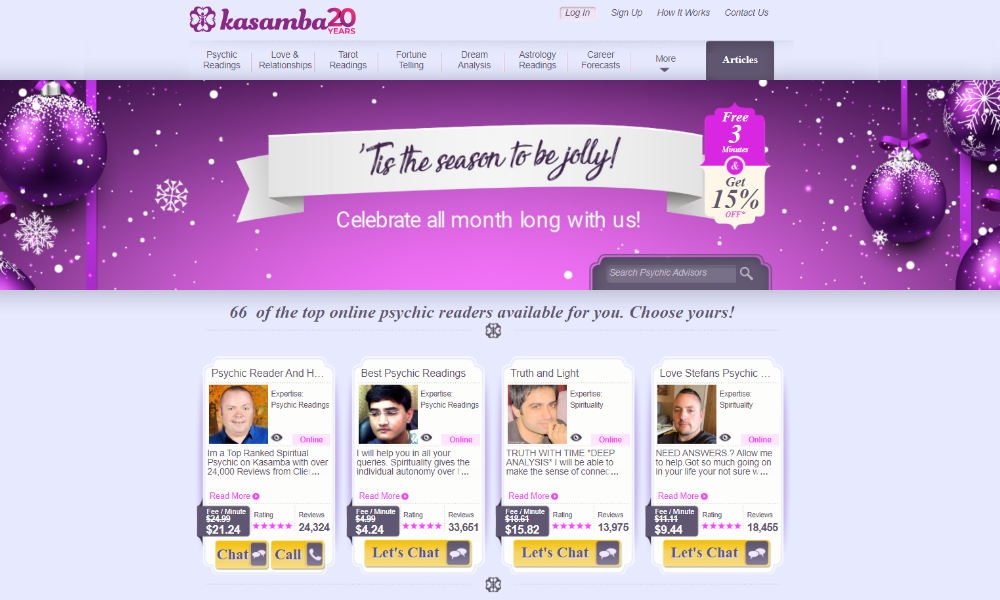 After you select a category or subcategory, you'll be able to review the options that are available. Each Psychic Advisor profile contains information such as their fee per minute, client reviews, average review score, and specialties.
Once you've found a Psychic Advisor that you want to reach out to, you may be able to chat with them immediately if they are online. If they're offline, you can send them a notification to let them know you are interested.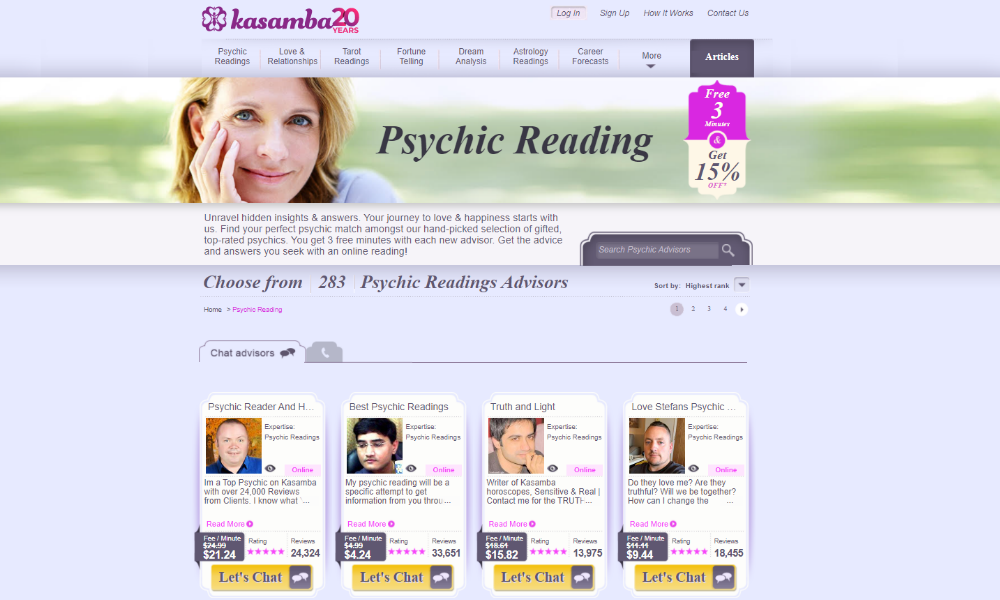 Kasamba has a mobile app that's available on both Android and iOS devices. This app makes it especially easy to have live chat sessions with your Psychic Advisor while you're away from your home computer.
Unfortunately, Kasamba does not offer any live customer support options. If you run into any issues, you may be able to find the solution on their FAQ page or Knowledge Base. Otherwise, you'll need to submit a support ticket and wait for their response.
Kasamba Pricing
Psychic Advisors set their own rates, so there's a wide range of pricing options on Kasamba. The most affordable advisors charge as little as $1.99 per minute. On the other hand, you may need to pay as much as $29.99 per minute for the most experienced and well-reviewed advisors. And if you prefer the offline/email method, you should expect to pay at least $50 per response.
First-time Kasamba users will receive three free minutes for their first phone or live chat session (you will be required to submit your payment information before you can use these free minutes). Also, with this provider's satisfaction guarantee, new users can request a full refund if they are not happy with their initial session.
After your initial session, you'll still get three free live chat minutes for each Psychic Advisor that you use for the first time, but this offer will no longer apply to phone sessions.
Kasamba Customer Reviews
Kasamba has 497 reviews and a score of 3.4 out of 5 on Trustpilot. Many of these reviews stated that Kasamba's online platform is quite user-friendly. They also often praised the professionalism of Kasamba's advisors as well as the accuracy of their readings. But, you should keep in mind that your experience with this provider will depend on your choice of Psychic Advisor — the negative reviews indicate that some of the advisors are neither professional nor accurate.
Things to consider before consulting a psychic
Finally, it should be noted that this industry is rife with scammers who are only concerned with making money rather than providing any help. While this psychic reading online platform does have a screening process, you should still be careful and look for warning signs before you invest your time and money into any particular advisor. By knowing what to watch out for, you'll be able to find a psychic who is truly interested in assisting you.