Keen Psychic Reading Review
Updated: Mar 23, 2022
We spent hours researching Keen.com to determine its most notable features, its pricing structure, and how it connects you with psychics available for psychic readings. Plus, we break down the pros and cons of using Keen.com, how it stands out from the competition, and its Trustpilot customer reviews.
Keen Overview
Keen is certainly one of the most prominent psychic reading online platforms, as they've been covered in major publications such as Cosmopolitan and Women's Health. The advisors on Keen offer a wide range of services, and the platform is quite easy to use as well. Also, unlike many other providers, Keen has a live customer support line that you can call whenever you run into an issue.
One downside to using this platform is that you can't communicate with psychic advisors over email or video chat — your only options are phone or text chat.
Notable Features
Keen Psychic Reading Features
Service Offerings
This provider offers a variety of different services, including psychic readings, tarot readings, and dream interpretation. Keen is also an excellent option for those who are interested in astrology, as they cover three distinct practices of astrology: Vedic, Chinese, and Mayan.
Specialties
There are psychics on this platform who specialize in areas such as love and relationships, finances, and life questions (deciding on where to move, finding your purpose, etc.). They even have advisors who specialize in psychic readings for pets.
Reading Format
Keen allows you to connect to their advisors through phone or live chat. But each of their advisors is able to set their own availability, so any particular psychic may choose to only use one of these two options.
Psychics
There are over 2,000 psychics available on this platform. To become registered as an advisor, psychics must first submit an application and get approved by Keen — it's nice to know that they don't allow anyone to just sign up and start accepting clients. In fact, at the time of this writing, Keen is no longer accepting new advisor applications due to overwhelming demand.
How Keen Works
Considering that there are thousands of psychic advisors who use this platform, it just wouldn't be practical to review all of the options that they have to offer. Thankfully, Keen's homepage has a search feature that allows you to narrow down your options according to price, service/specialty, and communication method (chat, call, or both).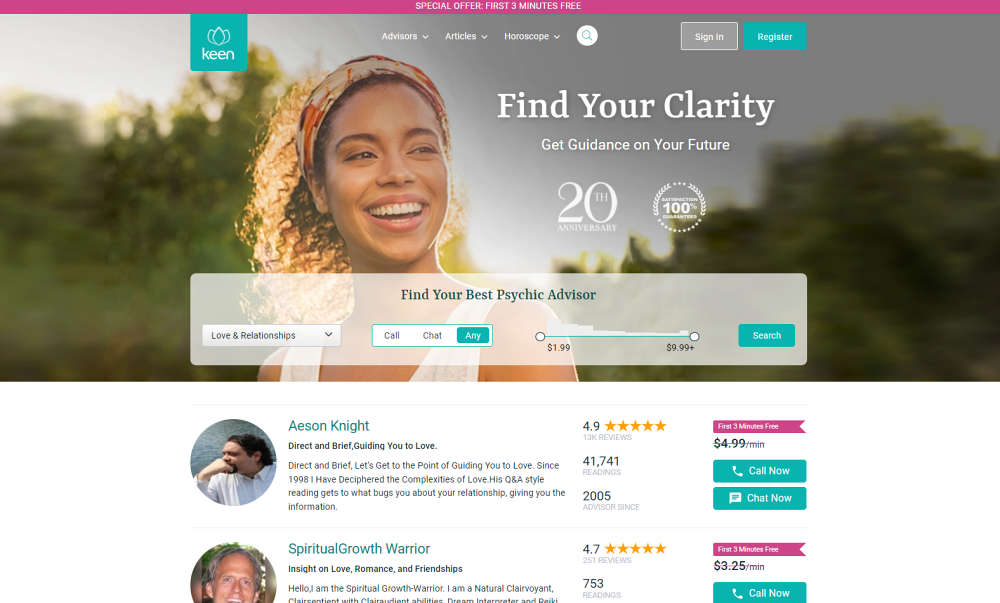 Once you've filtered your search according to your needs, you can sort the results by either Best Available or Featured Advisors. You'll also find that additional filters are available at this stage, such as star rating and availability.
Each psychic advisor profile on Keen contains information such as their star rating, client reviews, specialities, skills/methods, and languages. The profile also tells you their hours of availability for each day of the week. If they're online when you first land on their profile, you may be able to connect with them immediately. Otherwise, you can send them a message in order to schedule a call or chat for later.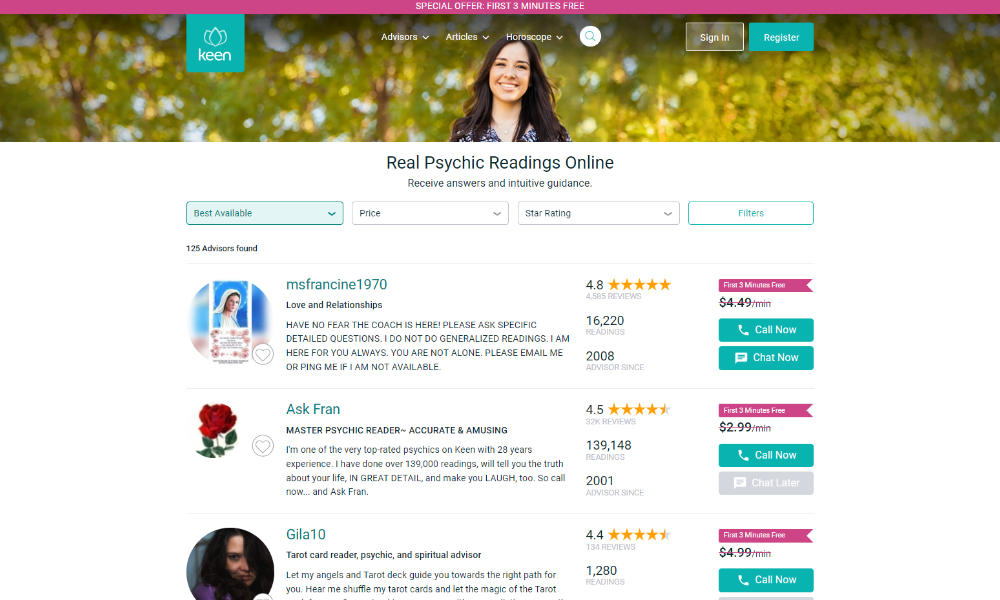 The Keen mobile app, which is available for both Android and iOS devices, makes it easy to use their platform on the smaller screens of smartphones and tablets. This app also includes a Best Match tool that can help you find the perfect psychic advisor for your specific situation.
If you run into any issues, there's a good chance that you'll be able to find the solution in Keen's Help Center. And if you can't find an answer in their published support material, another option is to submit a support ticket or call (877) 533-6435. This line is open 6AM to 6PM PT on weekdays and 8AM to 4:30PM PT on weekends.
Keen Pricing
There's a wide range of pricing options available on Keen, as each psychic advisor is allowed to set their own rate. The most affordable advisors charge $1.99 per minute, while some of the top advisors on the platform charge as much as $29.99 per minute. New users receive three free minutes for their first chat.
If you are ever unhappy with a chat, you can get up to $25 in credits with Keen's Satisfaction Guarantee. There are some restrictions to this offer — you can only be reimbursed for one conversation every 30 days, and the conversation must have taken place within 72 hours of when you requested reimbursement.
Keen Customer Reviews
On TrustPilot, this psychic reading online platform has 117 reviews and a score of 3.5 out of 5. In addition to praising their advisors, many clients noted that they enjoy the free daily horoscopes that are available on Keen. But it should be noted that there are a fair number of negative reviews as well — your experience on the platform will depend on which psychic advisor you select, and some clients didn't get the assistance they were looking for from the advisors they chose.
Things to consider before consulting a psychic
Even on a platform as well-established as Keen, you should still keep an eye out for scammers. Unfortunately, some people who claim to be psychics are only interested in making money rather than providing you with any actual assistance. But once you're aware of the most common scams in this industry, you'll be able to avoid wasting your money on someone who isn't even trying to help you.