Oranum Psychic Reading Review
Updated: Mar 23, 2022
We spent hours researching Oranum.com to determine its most notable features, its pricing structure, and how it connects you with psychics available for psychic readings. Plus, we break down the pros and cons of using Oranum.com, how it stands out from the competition, and its Trustpilot customer reviews.
Oranum Overview
Oranum's try-before-you-buy user experience is quite unique compared to other psychic reading online platforms. Most other services won't allow you to meet with their advisors at all unless you pay for it. On the other hand, advisors on Oranum hold public video chats that anyone can drop in on for free. This allows you to make an especially informed decision regarding whether you want to pay for a private session or other services from a particular advisor.
One drawback to using this service, though, is that they don't offer a satisfaction guarantee. While many other providers compensate you with credits or a refund for negative experiences, there's no such option on Oranum.
Notable Features
Oranum Psychic Reading Features
Service Offerings
In addition to psychics, Oranum is open to other types of spiritual experts as well. You'll also find astrologers, fortune tellers, tarot card readers, and much more on this platform. 
Specialties
Some of the advisors on Oranum specialize in areas such as relationships with family or advancing your career. There are even psychics available who specialize in communicating with pets. 
Reading Format
This platform is primarily based on video chat conversations. Text and voice-only chats are also options for connecting with advisors.
Psychics
There are over 200 advisors available on Oranum. To ensure that the information they are providing is accurate, those who apply to become psychic advisors on this platform are required to submit government-issued photo ID.
How Oranum Works
On the Oranum homepage, you can jump directly to the live video chat of an advisor who is currently streaming.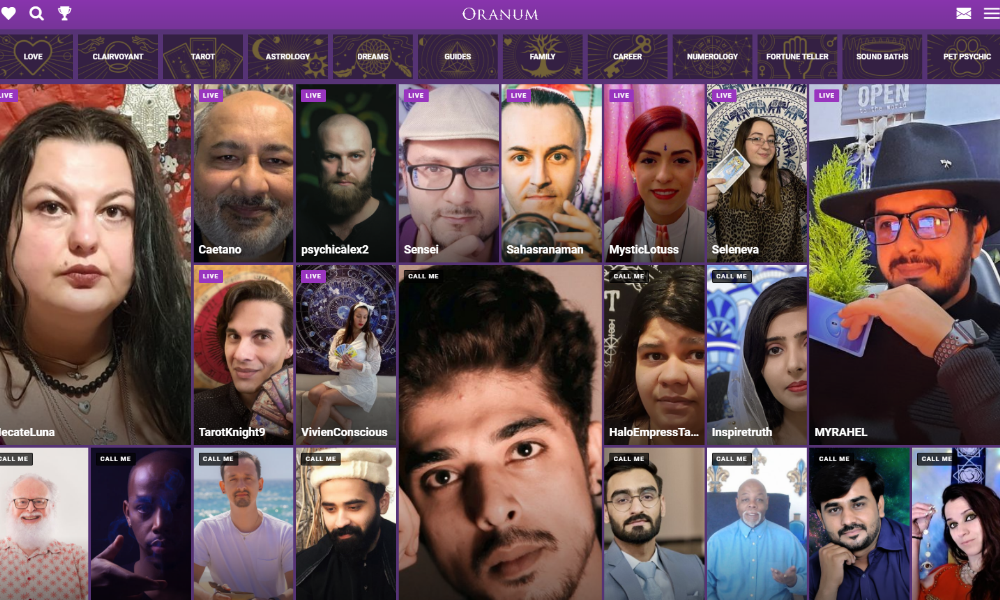 To switch over to a private chat with an advisor, you'll need to submit some of your "coins" — this is the currency used for all services on Oranum, and it can be purchased with major credit cards such as Visa, Mastercard, and Discover.
For private chats, advisors each set their own rate in terms of coins per minute. They may also set up prices for specific services, such as picking a tarot card or giving advice on a particular topic.
The profiles that you see on the Oranum homepage are just a sample of what they have to offer. At the top of the page, you'll also see categories that allow you to browse through the advisors that are available for each particular service and specialty.
Also, instead of browsing, you can use their Psychic Match tool to speed up the process of finding an advisor who's a good fit for your needs. After taking a quick quiz, Oranum will direct you to profiles that match up with what you're looking for.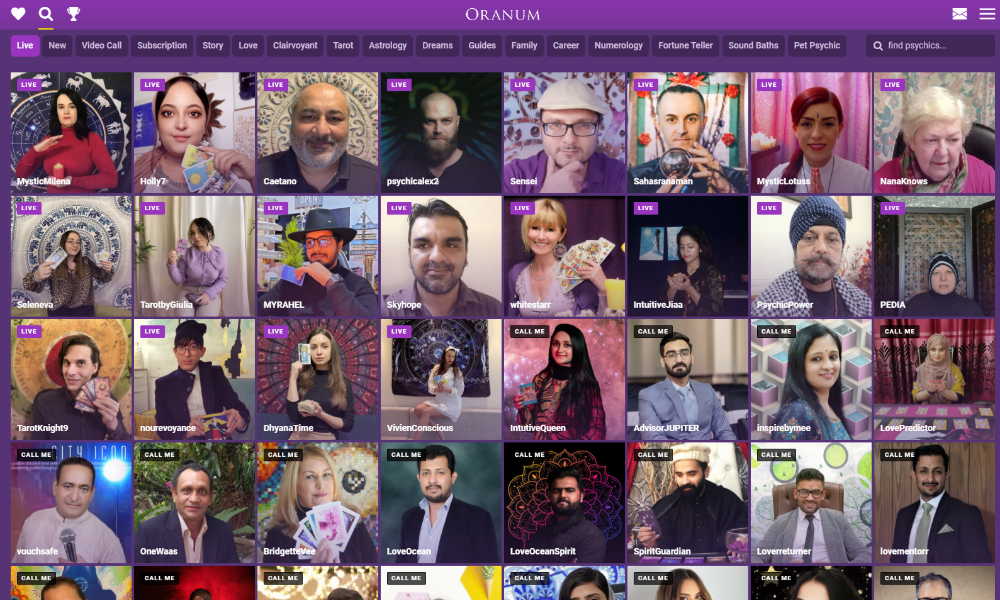 Oranum also has a mobile app, which is available for both Android and iOS devices. The app makes it easy to use this platform on the smaller screens of smartphones and tablets (if you tried to use a mobile browser instead, some features would be limited). You can also set up the app so that you receive push notifications whenever your favorite psychics are online.
If you run into an issue while using this psychic reading online platform, you may be able to find the solution by visiting their FAQ page. Otherwise, you can contact Oranum directly through their live customer support chat.
Oranum Pricing
As mentioned above, Oranum uses a virtual coins-based system for payments on their platform. They charge the following amounts for coins — the more you buy at one time, the higher your discount bonus:
Oranum Pricing
1,700 coins
$5.99
3,700 coins (300 bonus)
$11.99
12,700 coins (2,500 bonus)
$35.99
47,000 coins (13,000 bonus)
$119.99
107,000 coins (39,000 bonus)
$239.99
227,000 coins (91,000 bonus)
$479.99
You can also get 10,000 coins for free just by validating your credit card information.
Since each psychic advisor sets their own rates, there is a wide range of different prices available on this platform. Advisors on Oranum are able to charge between 500 to 20,000 coins per minute for private sessions.
Oranum Customer Reviews
On Trustpilot, Oranum has 12 reviews and a score of 2.3 out of 5. While most of the customers who left reviews had poor experiences, the sole five-star review indicates that a recent change in ownership has led to some significant improvements. And as with all psychic service platforms, you should keep in mind that your experience will depend greatly on which advisor you select.
Things to consider before consulting a psychic
Unfortunately, there are many so-called psychics out there who are only interested in making money rather than providing you with any assistance. Before you commit to a psychic reading, make sure you know the warning signs that you should be looking out for. That way, you can select an advisor who is truly able to help with the issues you would like to discuss.