Mysticsense Psychic Reading Review
Updated: Mar 23, 2022
We spent hours researching Mysticsense.com to determine its most notable features, its pricing structure, and how it connects you with psychics available for psychic readings. Plus, we break down the pros and cons of using Mysticsense.com, how it stands out from the competition, and its Trustpilot customer reviews.
Mysticsense Overview
Mysticsense stands out as one of the best psychic reading online platforms available. They have excellent ratings on third-party consumer report services, and they offer 24/7 live customer support chat that you can reach out to for immediate assistance whenever you run into an issue.
Also, unlike many other providers, Mysticsense allows you to connect to their advisors over video chat in addition to their phone and text chat options. One option that is missing from Mysticsense, though, is the ability to communicate with advisors over email.
Notable Features
Mysticsense Psychic Reading Features
Services Offerings
card reading, dream interpretation, and even life coaching. Mysticsense also offers a free daily horoscope, which can be sent as a newsletter to your email inbox.
Specialties
Mysticsense offers psychics who specialize in family, friends, pets, energy healing, lost objects, and many other areas. You can also search for psychics based on which tools they use, such as crystal balls, runes, or tarot cards.
Reading Format
As with most other psychic services, Mysticsense offers text chat and phone options for connecting with their advisors. But what separates this provider from the competition is that you can also have conversations over video chat.
Psychics
Mysticsense has high standards for the psychic readers that they allow to use their platform. To get approved, aspiring advisors need to submit their legal name and contact information, and then they must use government-issued photo identification (passport, driver's license, etc.) to prove that this information is accurate. Mysticsense conducts live video interviews with these applicants as well. As of this writing, there are 535 psychics available on the platform.
How Mysticsense Works
When searching for a psychic, Mysticsense allows you to use the following filters:
Mysticsense Filters
Status
The available options are Offline, Online, and Busy
Special Tags
Top Rated, Very Popular, Rising Talent, Newly Joined, Staff Pick
Specialties
Breakup & Divorce, Family Issues, Friends & Social Life, etc.
Tools
Chakras, Crystals, Pendulum, etc.
Reading Style
Compassionate, Direct, Expressive, Thoughtful, Wise
These filters make it easy to find exactly what you're looking for. Also, you can sort your results by price, name, or how long the advisors have been on Mysticsense.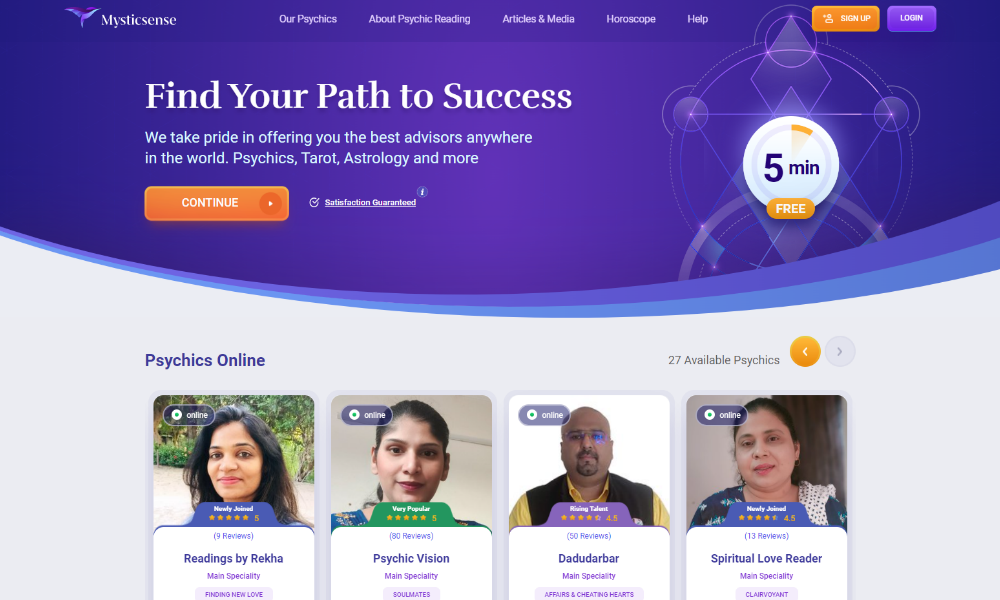 The psychic advisor profiles contain information such as their client reviews, average score, availability, and rates. Each advisor can only select one Main Speciality, and their profile also lists the other specialities and tools that they offer.
Once you've found an advisor that you would like to chat with, you may be able to connect with them immediately if they are online. Otherwise, Mysticsense has a calendar tool that you can use to schedule an appointment for later.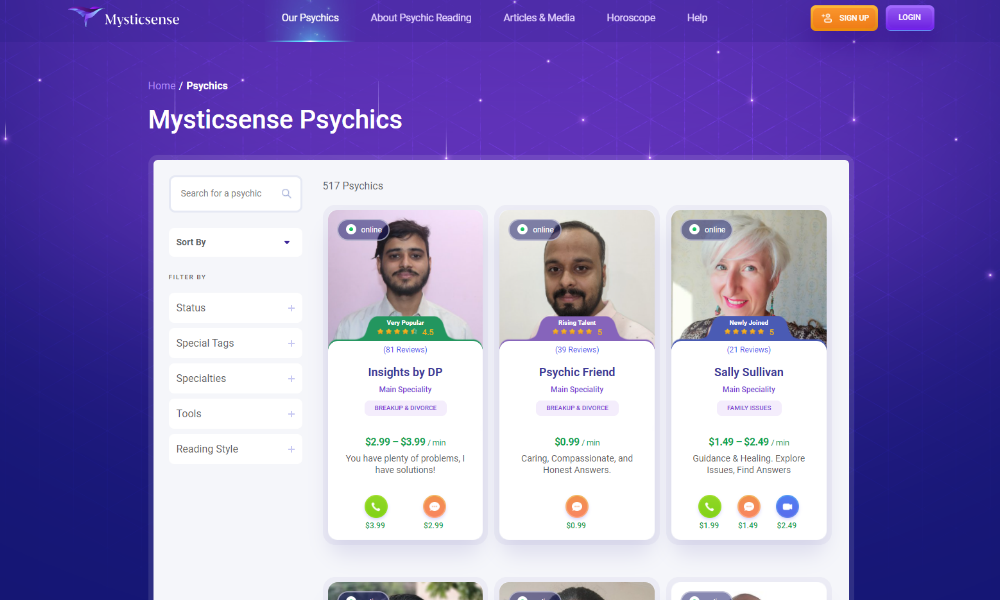 If you ever run into an issue, Mysticsense offers multiple ways to reach them for support — you can email [email protected], use the support contact form, or connect to their 24/7 live support chat. You may also be able to find the solution to your problem on your own through their Help Center.
Mysticsense Pricing
Each advisor sets their own rates, so the pricing depends on which psychic you select. You can expect to pay between $0.99 to $9.99 per minute. Generally, text chat is the least expensive communication method, while video chat is the most expensive.
Once new users have deposited at least $10 into their account, they can claim five free minutes for their first call. Also, with Mysticsense's Satisfaction Guarantee, you can receive up to 10 minutes back in credits whenever you are unsatisfied with a session.
Mysticsense Customer Reviews
Mysticsense has 54 reviews and a score of 4.3 out of 5 on Trustpilot, with over 80% of their reviews categorized as Excellent. The positive reviews indicate that many customers developed rewarding relationships with their go-to psychics, and several reviews also reported that the customer support is consistently responsive and helpful. Some customers complained that the advice they received was too vague to be useful, though — you should keep in mind that your experience on this platform depends greatly on which advisor you select, so choose wisely.
Things to consider before consulting a psychic
One of the best aspects of this psychic reading online platform is their rigorous screening process, but you should still keep an eye out for fraud. Unfortunately, it is all too common for scammers to claim to be psychics in order to take advantage of their clients for monetary gain. Before you invest any of your time and money into a psychic reading, make sure you understand the dangers of using psychics and mediums — this will give you the knowledge you need to avoid such scams.