The Best Free Online Psychic Reading of 2023

Contributing expert: Dr. Sam Youssef, Ph.D. - Updated: Feb 16, 2023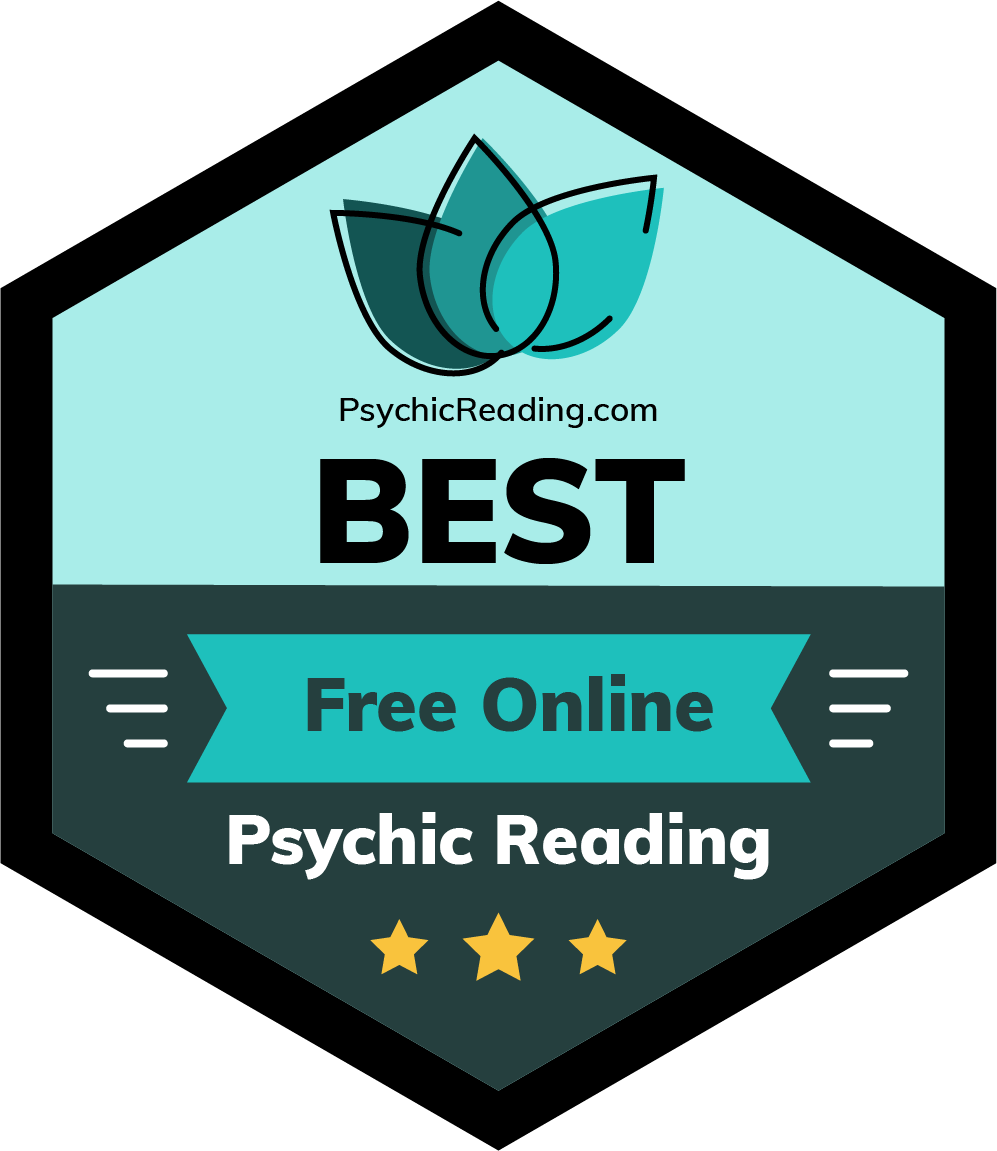 After extensive research, we've concluded that Life Reader is the top provider for free online psychic readings. They offer more opportunities for free minutes than any of your other options, and they also offer highly affordable pricing as well as a wide selection of services. But depending on what you're looking for, Life Reader still might not be the best option for you — for this reason, we've also reviewed four other online psychic reading platforms that are well worth checking out below.
Top 5 Free Online Psychic Reading Websites to Try
How We Chose the Best Free Online Psychic Reading Website
We reviewed 25 of the most popular psychic reading online platforms in order to determine which options stand out as the absolute best for free readings. To evaluate each of these providers, we focused on the following factors:
Valuable introductory offers

Of course, there's no such thing as a truly "free" psychic reading service. If you become an active user on any of these platforms you will certainly end up spending some money. But many of these providers do have introductory offers that include free minutes in order to encourage people to try out their service. Our top picks provide the most valuable introductory offers.

Many factors can affect the quality of your reading experience. If you're not satisfied with your reading, then you should be able to get either your money back or credits that you can use toward another reading. We prioritized platforms with strong satisfaction guarantee policies and good customer service.

Rigorous psychic screenings

Unfortunately, it's relatively common for scammers to pretend to be psychics for monetary gain. To help you avoid such scams, we only selected providers that have rigorous screening processes for people who apply to join their platform as advisors.

Transparent privacy policy

You will certainly need to share your payment information to use any of these services. Depending on what you want to talk to your psychic about, you may be sharing intimate details about your personal life as well. To help you protect this information, we required all top picks to have clear, easily accessible privacy policies listed on their sites.
A note about service offerings and specialities
Your needs aren't static. You may ask for guidance on one topic during your first session and then require an entirely different service during your next. Our top picks offer a wide range of services (psychic readings, tarot, astrology, etc.) and specialities (love, family, career, finance, etc.) — that way, you won't need to go through the inconvenience of finding another provider every time your needs change.
---
Our Free Online Psychic Reading Reviews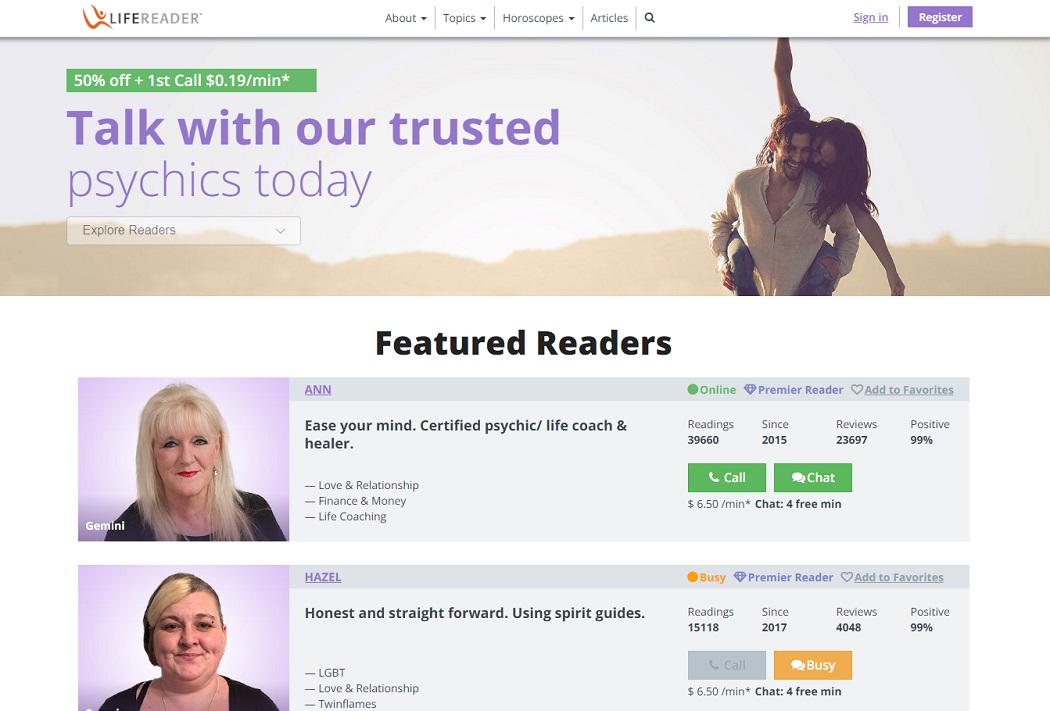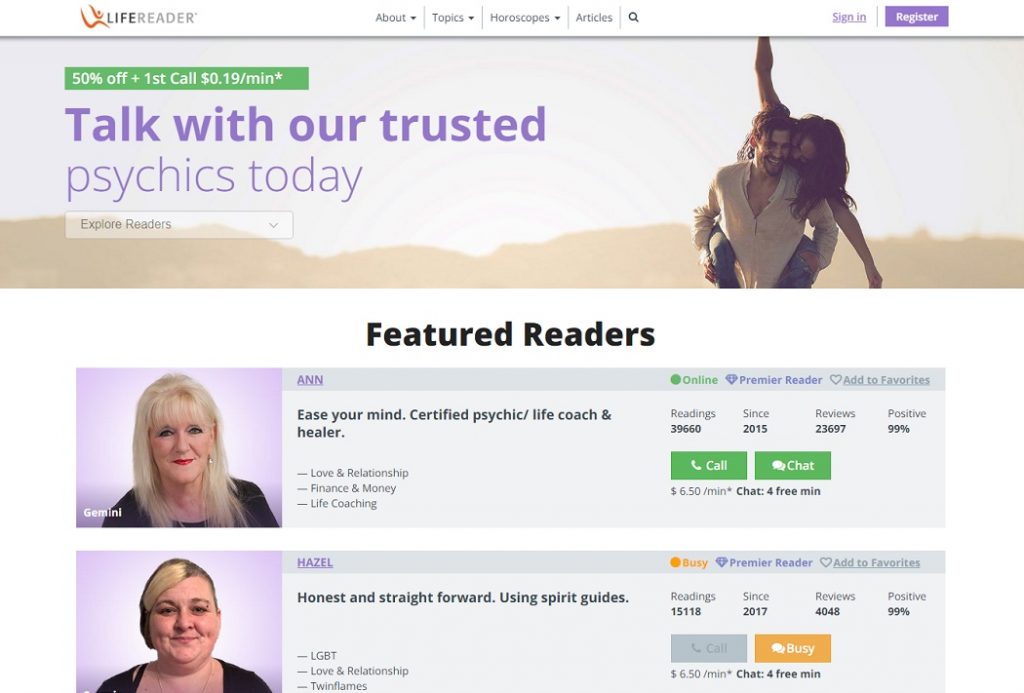 Unlike many other psychic reading online platforms, Life Reader's introductory offer to new customers doesn't include any free minutes. Despite this fact, they stand out as the best option for free readings due to their policy of providing four free minutes whenever you try out a psychic for the first time. It doesn't matter whether you're a new customer or have been using the platform for years — the offer is available to everyone. This service also offers notably low rates, as none of the psychics available charge more than $6.50 per minute. One downside, though, is that Life Reader only offers text and voice options for connecting with the psychics on their platform. If you prefer video chat, you'll need to find another option.
Life Reader Overview
Number of psychics
82
Service offerings
Psychic readings, tarot readings, horoscope readings
Specialities
Love & relationships, career & work, finance & money, life purpose, spiritual guidance, family advice, infidelity, LGBTI
Pricing
$3.50 to $6.50 per minute
Introductory offer
First call is $0.19 per minute for the first ten minutes
Reading format
Text, voice
Everclear — Best Satisfaction Guarantee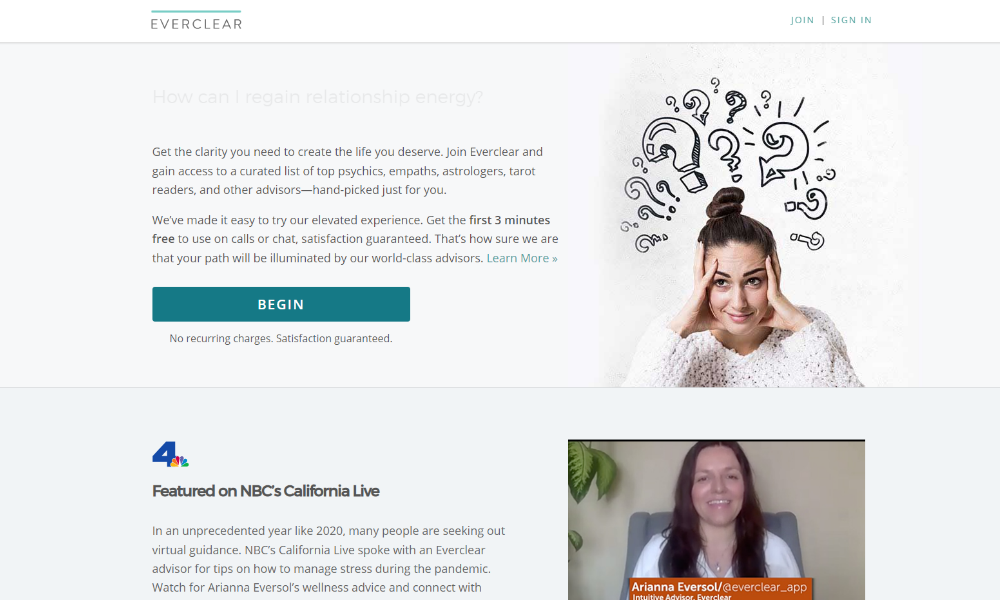 New users on this platform are able to get their first three minutes for free. Another benefit to using Everclear is that if you are unsatisfied with one of your sessions with a psychic, you can get up to $25 in refund credits through their satisfaction guarantee. It's also worth mentioning that Everclear offers some of the most affordable rates available, as they have advisors who charge as little as $1.81 per minute. Everclear's rigorous screening and testing process ensures all advisors on its system are vetted to give you a quality reading. But, as with Life Reader, one significant drawback to this platform is that they don't offer video chat.
Everclear Overview
Number of psychics
Not listed
Service offerings
Empath, astrology, numerology, tarot reading
Specialities
Love & relationships, destiny & life path, money & finances, wellness, career, lost loved ones, pets
Pricing
$1.81 to $19.98 per minute
Introductory offer
First three minutes are free
Reading format
Text, voice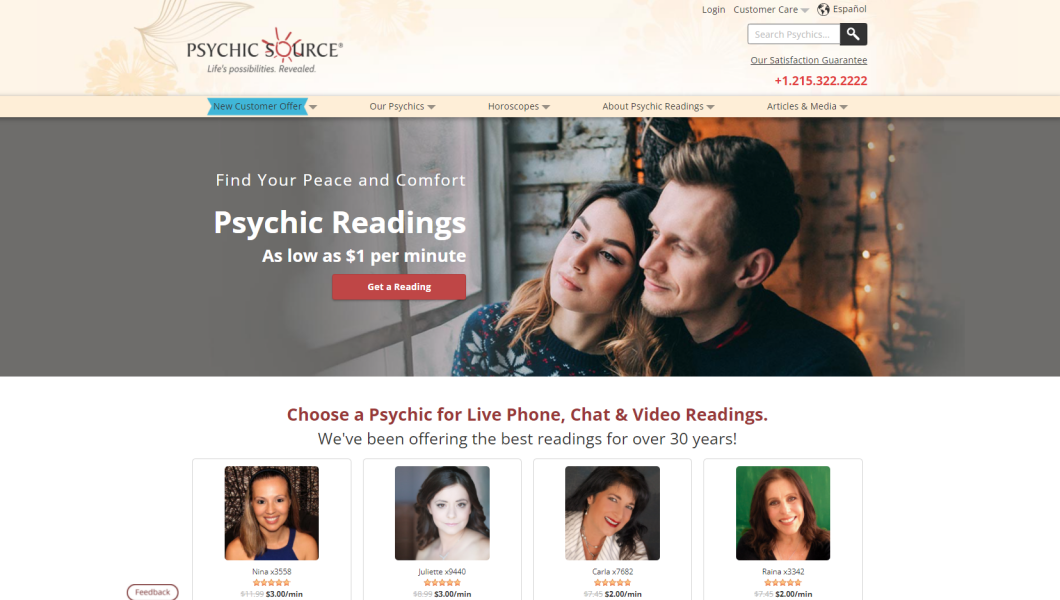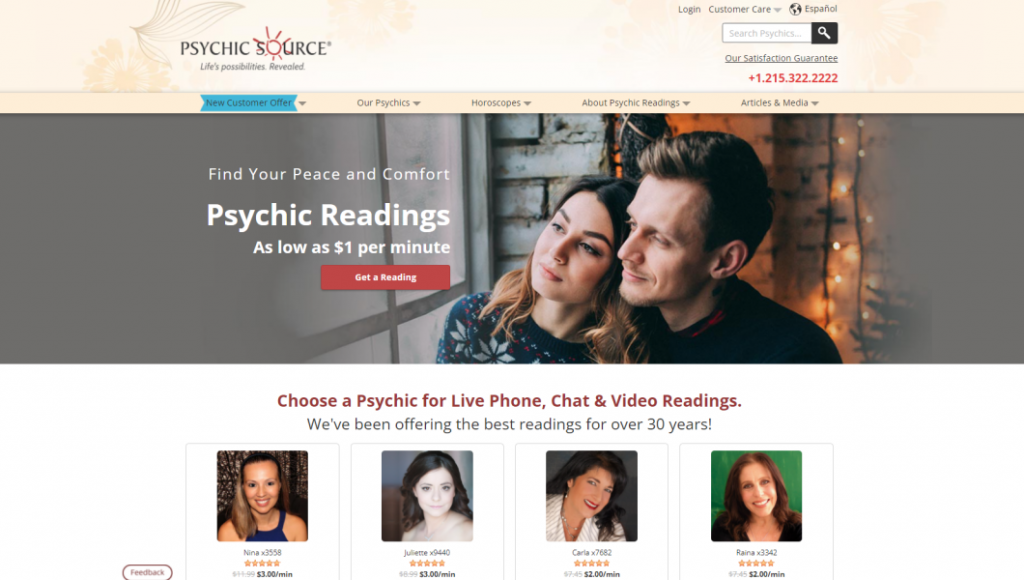 Psychic Source is the first provider featured in this guide that offers an option for video chat — indeed, as of this writing, 50 of the advisors on Psychic Source have made video chat one of their available communication methods. This platform is also notable for their exceptional screening process. To join Psychic Source as an advisor, applicants must go through a recorded video interview as well as several test readings before they are approved. This ensures that you'll be choosing from a pool of truly skilled and experienced psychics when you use this service. The only concern some users may have with this option is the price. With a minimum rate of $4.99 per minute, you can find more affordable advisors elsewhere.
Psychic Source Overview
Number of psychics
304
Service offerings
Career psychic, clairaudient, clairsentient, clairvoyant, energy healing, intuitive/empath, pet psychic, psychic medium
Specialities
Relationships & family, career & finance, destiny & meaning, loss & grieving
Pricing
$4.99 to $18.99 per minute
Introductory offer
Discounted rate of $1.99 per minute for up to 30 minutes, plus three free minutes
Reading format
Text, voice, video
Mysticsense — Best Selection of Psychics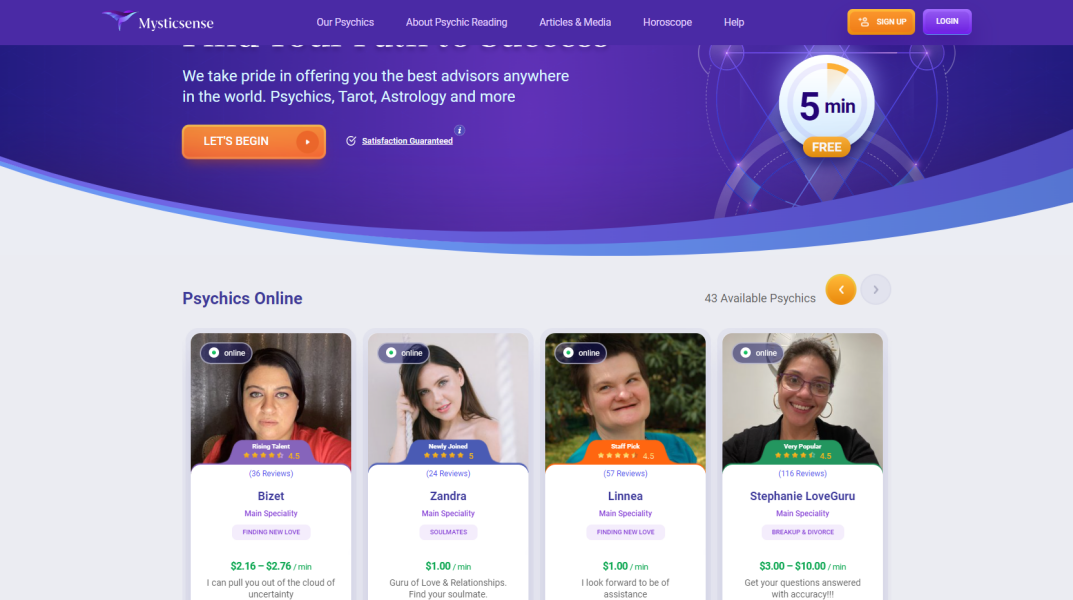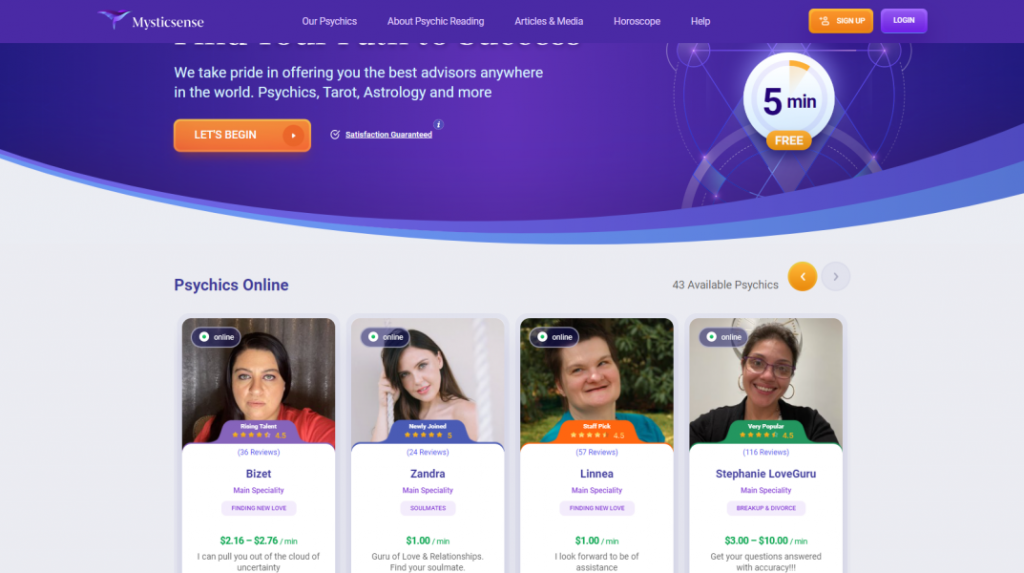 Mysticsense is notable for the sheer number of advisors that are available on their platform — with over 500 active psychics, you should be able to find a good match no matter how specific your needs are. They also offer highly affordable rates, with some advisors only charging $0.99 per minute. Yet another benefit is that they provide a 24/7 live support chat room that you can reach out to whenever you run into an issue with their service. For your initial session, the first five minutes are free.
Mysticsense Overview
Number of psychics
527
Service offerings
Tarot card reading, angel/oracle card reading, astrology, cartomancy, crystal ball, crystals, runes, numerology, dream interpretation, life coaching
Specialities
Love, LGBTQ relationships, family issues, friends & social life, career & money, life path & destiny
Pricing
$0.99 to $10 per minute
Introductory offer
First five minutes are free
Reading format
Text, voice, video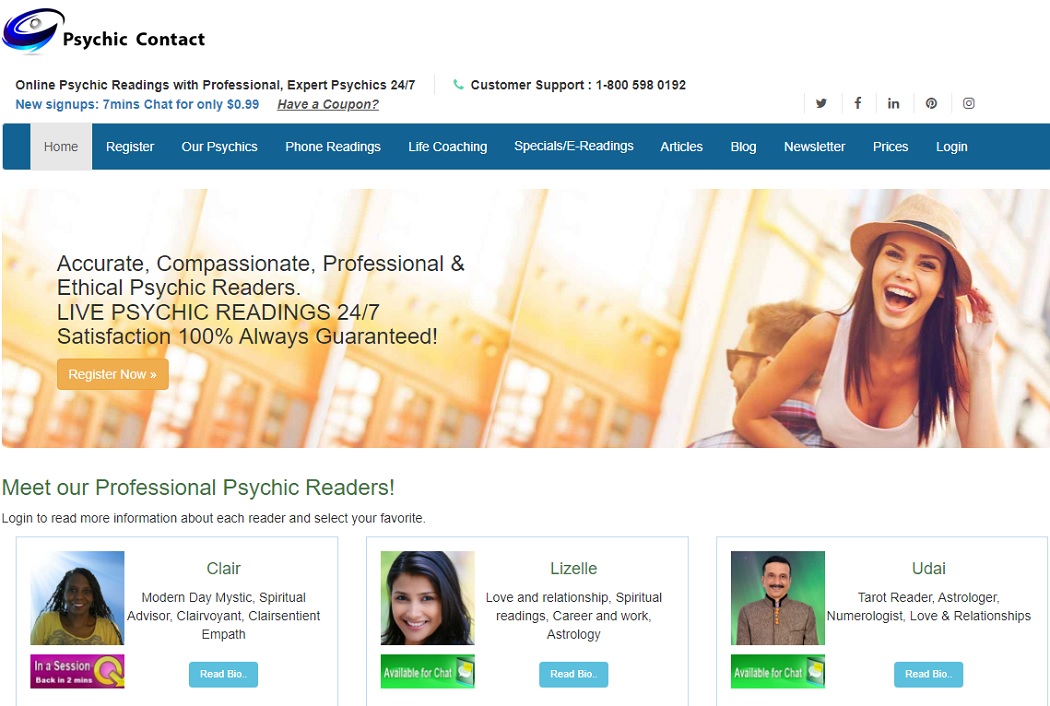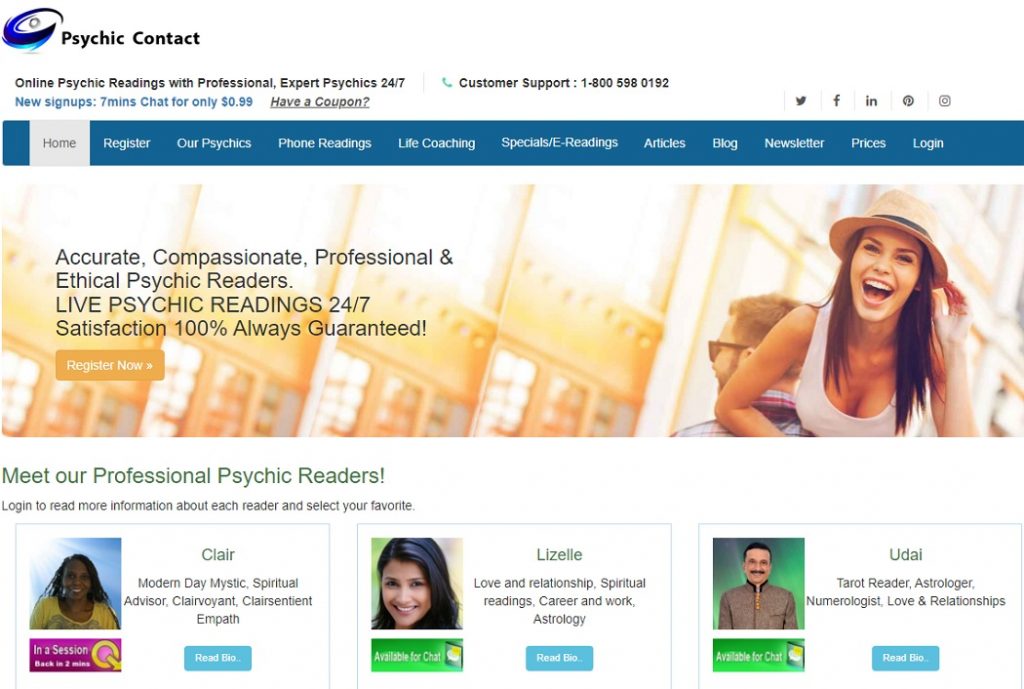 Psychic Contact is one of the few psychic service providers that allows you to communicate with their advisors over email. As for text chat, new customers can get their first seven minutes for just $0.99. Also, if you pay for at least 25 minutes of chat upfront, Psychic Contact will throw in an additional 10 free minutes as a bonus. It should be noted that there aren't that many advisors available on this platform, though. Given this relatively limited number of options, you may not be able to find exactly what you're looking for.
Psychic Contact Overview
Number of psychics
17
Service offerings
Numerology, mediumship, tarot card readings, Astrology, clairvoyant psychics, rune readings, past life readings, healers/reiki, dream interpretation, spirit guides, life coaching
Specialities
Love & relationship advice, money & finance, future predictions
Pricing
Starts at $19.50 per ten minutes for text chat and $29.95 for one question for email readings
Introductory offer
First seven-minute chat is only $0.99
Reading format
Text, email
How Much Do Psychics and Mediums Cost?
No psychic reading platform is truly free. Once your free trial time expires, you'll be required to pay a fee to continue to use the service.
Most psychic reading platforms allow advisors to set their own rates, so you'll find that there are a wide range of pricing options available within each service. But if you'd like to compare the cost of different providers, one factor you can consider is their minimum rate — you can find rates as low as $1 per minute on platforms such as Mysticsense and Psychic World, while there are also some platforms like Psychic Source where no advisors charge less than $4.99 per minute.
You can also look at the maximum rate to compare costs. For example, no one on Life Reader charges more than $6.50 per minute, while the most skilled and experienced psychics on Kasamba charge as much as $29.99 per minute.
The Warning Signs of Psychic Fraud
We only selected providers with rigorous screening processes, but you should still be on the lookout for fraud when you use a psychic reading service. It's up to you to choose an advisor that meets your needs, regardless of which platform you use. We recommend that you review the common clairvoyant and psychic frauds to arm you with information to avoid being deceived. We recommend that you read up on the most common clairvoyant and psychic scams — this will give you the insight you need to avoid being misled.
What is a Psychic Reading and How Does it Work?
In a psychic reading, someone with heightened extra-sensory perceptive abilities helps you discern some sort of information. This information can take many forms — you may be looking for advice on your love life, guidance with your career, or even help with finding lost objects. There are general psychics who are willing to help you with anything as well as psychics who specialize in specific subject areas. Many psychics use tools such as tarot cards or crystal balls, while others use no tools at all.
Online platforms such as the services featured in this guide allow psychics to perform readings remotely. Depending on the platform, you may be able to connect to psychic advisors through text chat, voice chat, video, or email.
When selecting a psychic service platform, you first must consider what you're looking for. Which communication method do you prefer? Is there a particular psychic service that you are interested in? How much are you willing to pay? Once you know the answers to these questions, you'll be able to find a platform that's a good fit for your needs.
These platforms are generally quite easy to use. The first step is to create an account and add your payment method. Then, you usually browse through all the platform's physics if you prefer or use filters to narrow down your search. Once you've found an advisor that you'd like to try out, you may be able to connect with them immediately if they happen to be online at the moment. If not, you should be able to send them a message to schedule an appointment for later. Some platforms even have a calendar tool that makes it especially easy to see an advisor's availability and schedule appointments.
What do you need to prepare for a psychic reading?
After you select an advisor, some psychic reading online platforms allow you to jump right into a reading. Other platforms require you to provide some information first, such as your background and what services you are most interested in. This allows the psychic to save time by skipping the most basic questions, and it also gives them a chance to set up their equipment if necessary.
If the platform does allow you to jump right in, we recommend that you still take some time to prepare for your session first. After all, you're going to be charged by the minute, and even at an affordable rate that can quickly add up to a substantial sum. To get the most value out of your session, you should carefully consider what you are looking to get out of this experience before it begins. If you have multiple issues that you want to address, it may help to write these items down in order of priority. You can then use this written reference during the session to stay focused and make the most of your reading.