The Best Online Psychic Readings of 2023

Contributing expert: Dr. Sam Youssef, Ph.D. - Updated: Feb 16, 2023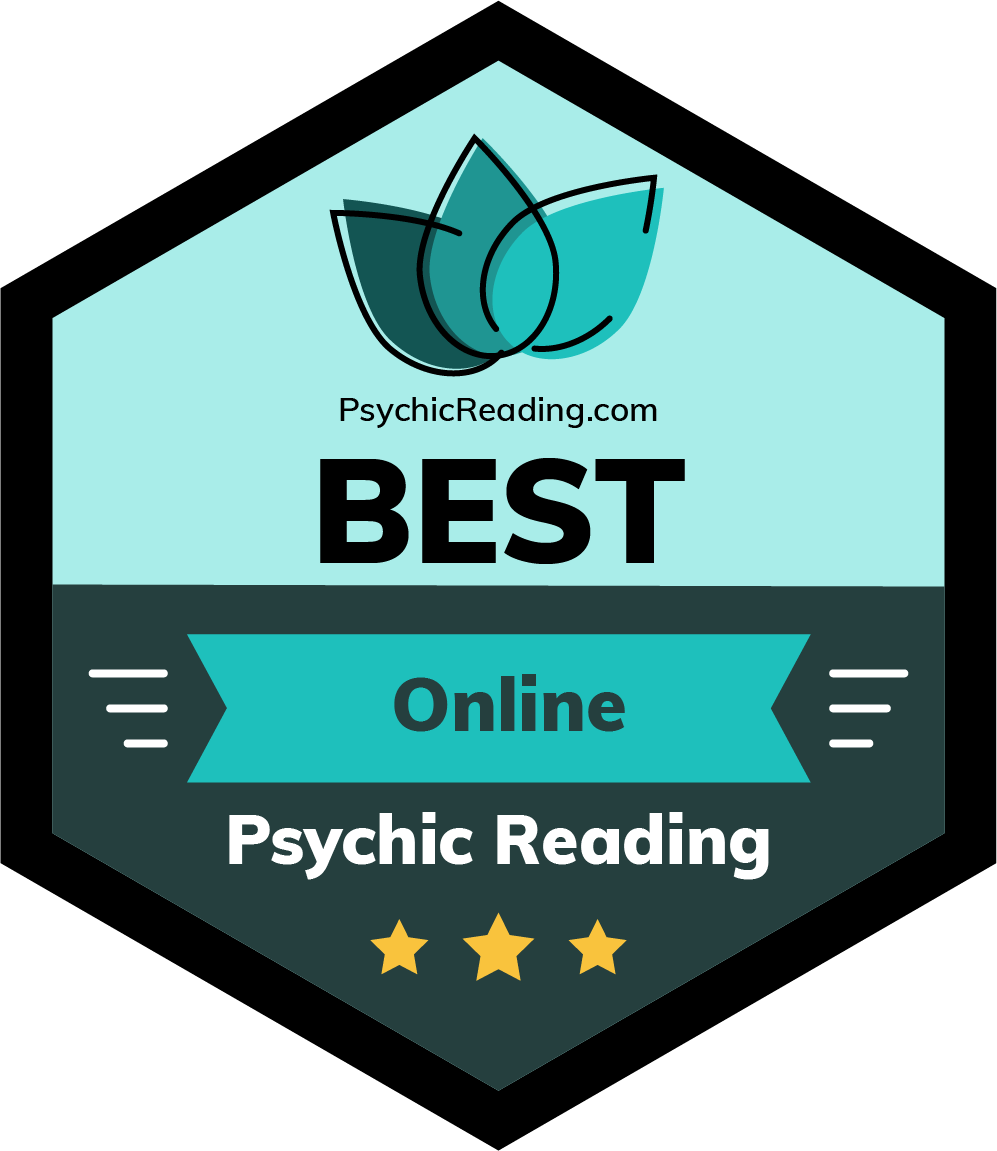 Psychic World stands out as the absolute best online psychic reading service due to their high-quality advisors and affordable pricing. But that might not be the best option for everyone — just in case Psychic World isn't a good fit for your needs, we've also reviewed four other top psychic services that you should check out below.
Top 5 Online Psychic Reading Websites to Try
How We Chose the Best Online Psychic Reading Website
We reviewed 25 of the most popular psychic reading online platforms in order to determine which five options are most worth your time and money. To make our selections, we evaluated the following four factors for each provider:
Rigorous psychic screenings

We required websites to have transparent, robust screening processes. It wasn't enough to just say that they screened — they had to say how. Any sites that didn't mention screening their psychic advisors at all were cut from the list.

Transparent privacy policy

In addition to your contact and payment information, you may also be sharing deeply personal details about your life when you use a psychic reading service. It's important for this information to be protected. We required all top picks to have clear, easily accessible privacy policies listed on their sites.

If you're not satisfied with your reading, then you should be able to get your money back. At the very least, you should be able to get credits that you can use toward another session. We valued websites with satisfaction guarantee policies and good customer service.

Broad service offerings and specialities

As a service, psychic reading is a broad category with many possible variations. Depending on your needs, you may be looking for something highly specific. Your needs may change over time as well. Our top picks offer a wide range of services (psychic readings, tarot, astrology, etc.) and specialities (love, family, career, finance, etc.), so you'll be able to find whatever it is that you're looking for.
---
Our Online Psychic Reading Reviews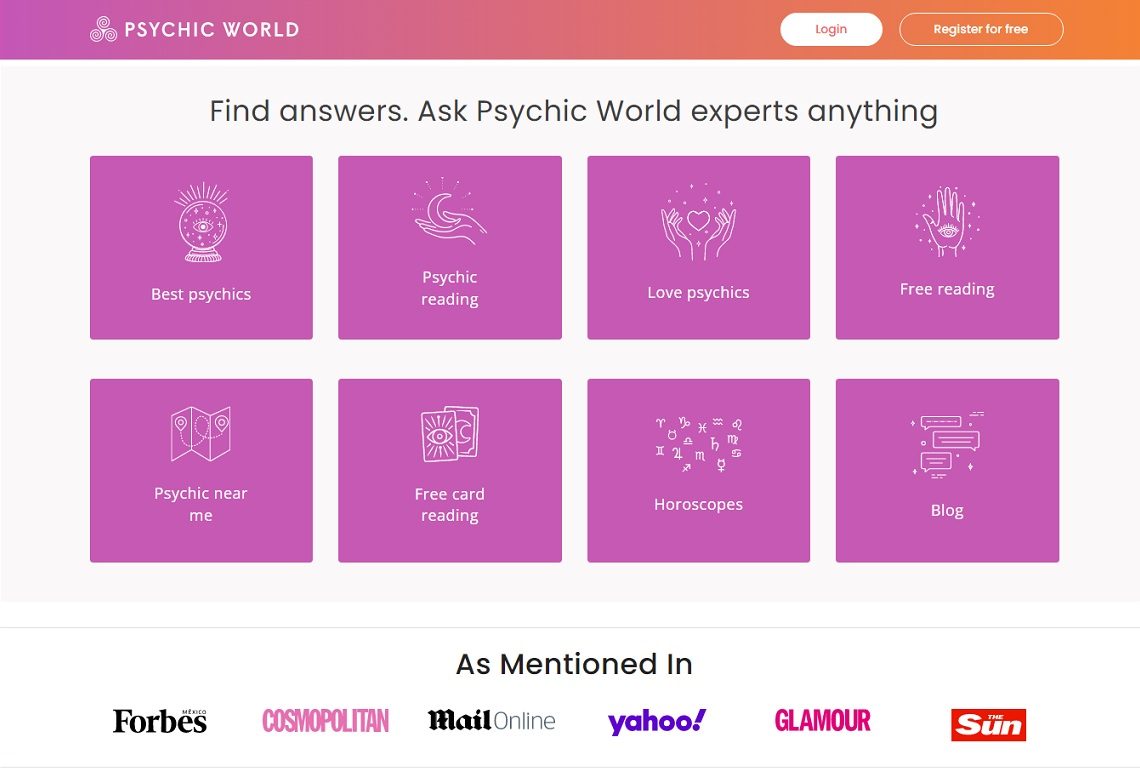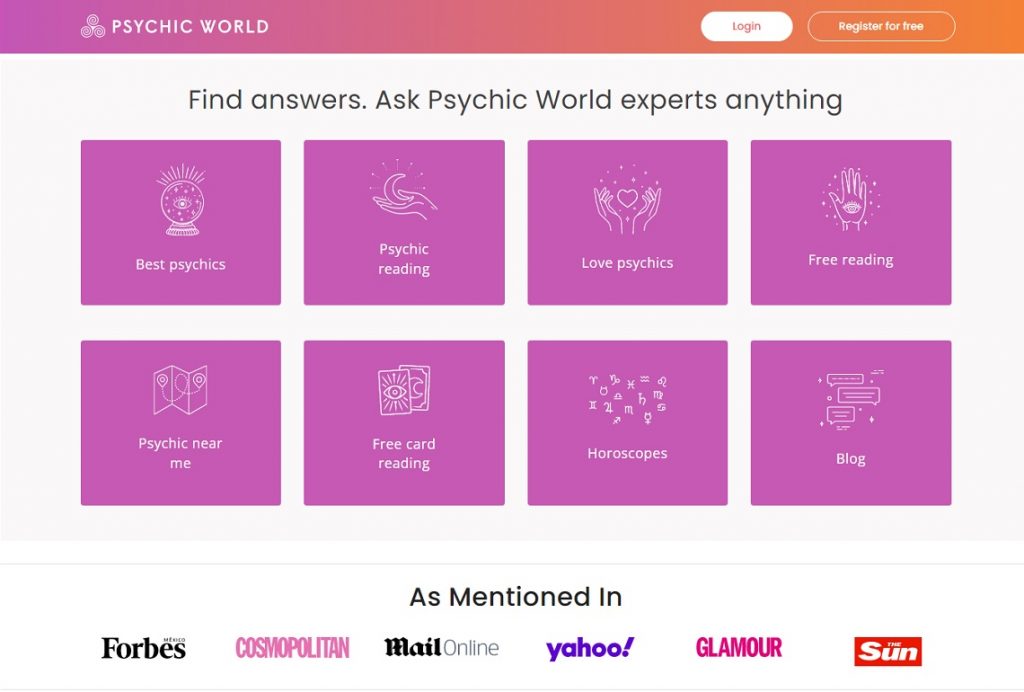 There's a good chance that you've already heard of Psychic World before, as they've been mentioned in major publications such as Cosmopolitan, Glamour, and Forbes. To ensure that each of their advisors is highly skilled and experienced, Psychic World utilizes a rigorous screening process. Those who apply to join the platform as psychics must pass a background check and social media review, and then they need to go through several rounds of test readings before they are accepted. Unlike many of their competitors, Psychic World offers a full range of options for connecting with their psychics — you can have readings through text, voice, or video chat. They're more affordable than most of your other options as well.
Psychic World Overview
Number of psychics
105
Service offerings
Clairvoyant, tarot, psychic reading, psychic medium
Specialities
Career & work, family & friends, love & relationships, money & prosperity, deceased loved ones, breakups & divorce, infidelity, spirit guides
Pricing
$1 to $6 per minute
Introductory offer
Not listed
Reading format
Text, voice, video
Psychic Source — Most Rigorous Screening Process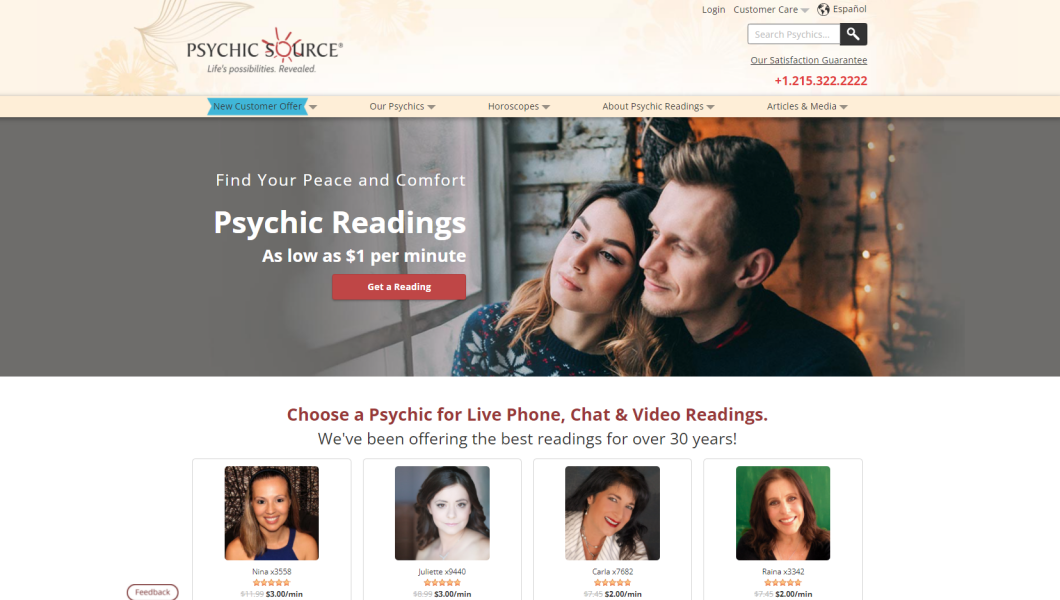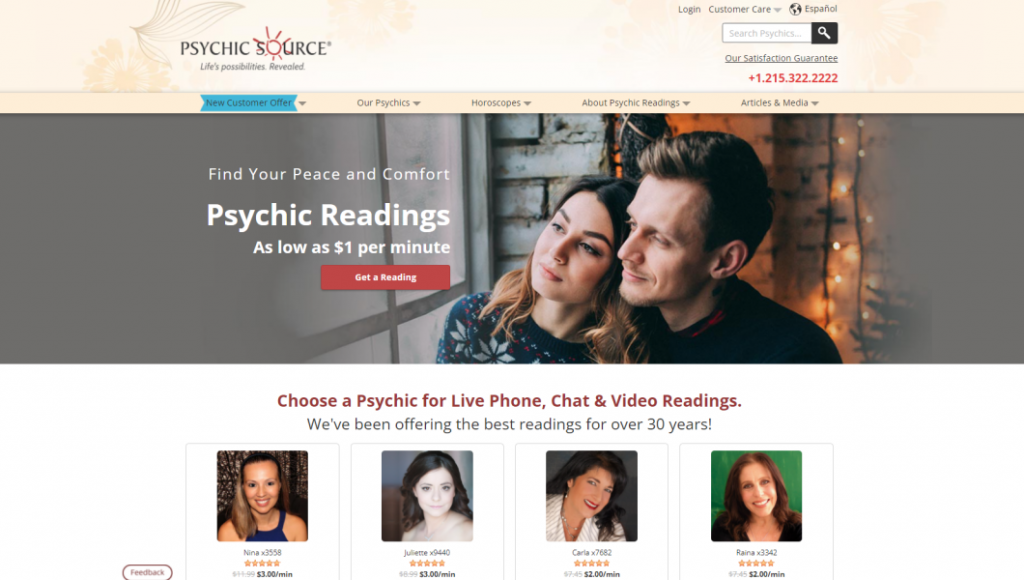 Psychic Source is another psychic reading service that is highly selective about the advisors they allow to use their platform. Each applicant must go through a one-way, recorded video interview. And even if Psychic Source is satisfied with the applicant's answers to the interview questions, they still need to perform several test readings before they are approved. It should be noted, though, that Psychic Source is one of the more expensive options available — the most affordable rate here is $4.99 per minute. But you can feel a little better about that cost when you consider that 1% of all payments on this platform go to charities such as Futures Without Violence and the National Center for Housing & Child Welfare. They've raised over $700,000 in donations so far through this program.
Psychic Source Overview
Number of psychics
304
Service offerings
Career psychic, clairaudient, clairsentient, clairvoyant, energy healing, intuitive/empath, love psychic, pet psychic, psychic medium
Specialities
Love, relationships & family, career & finance, destiny & meaning, loss & grieving
Pricing
$4.99 to $18.99 per minute
Introductory offer
Discounted rate of $1.99 per minute for up to 30 minutes, plus three free minutes
Reading format
Text, voice, video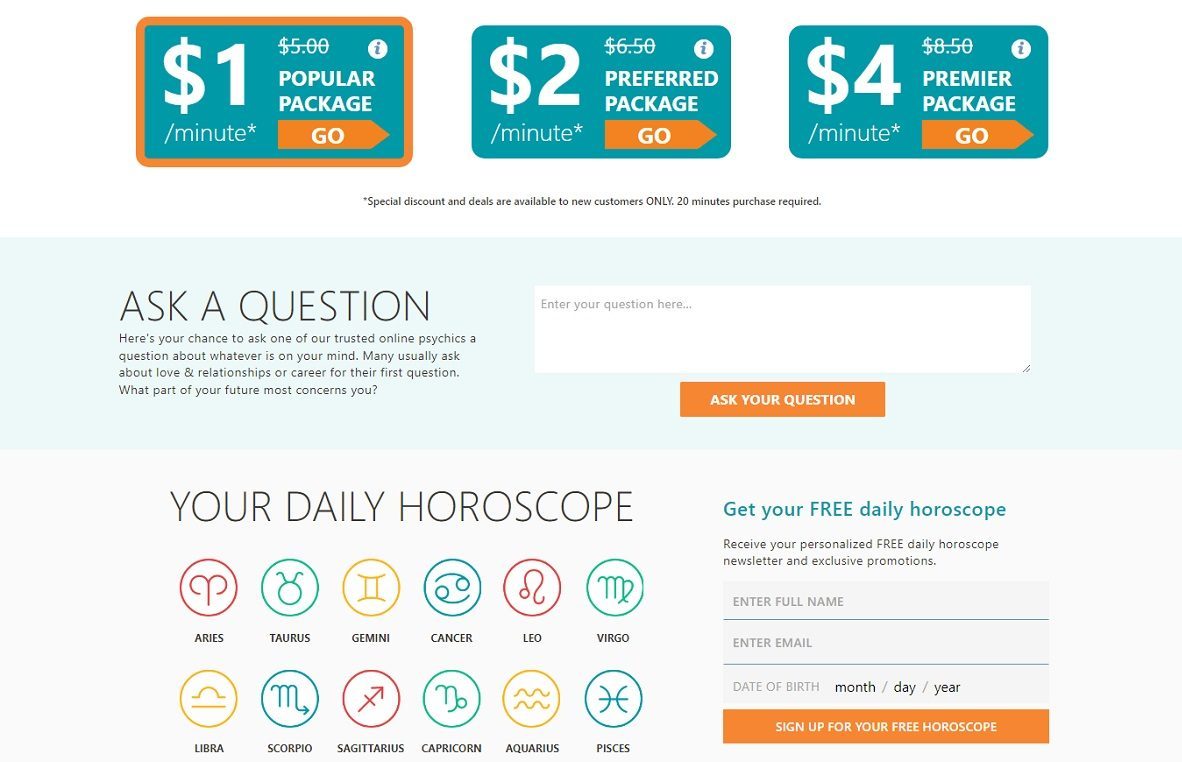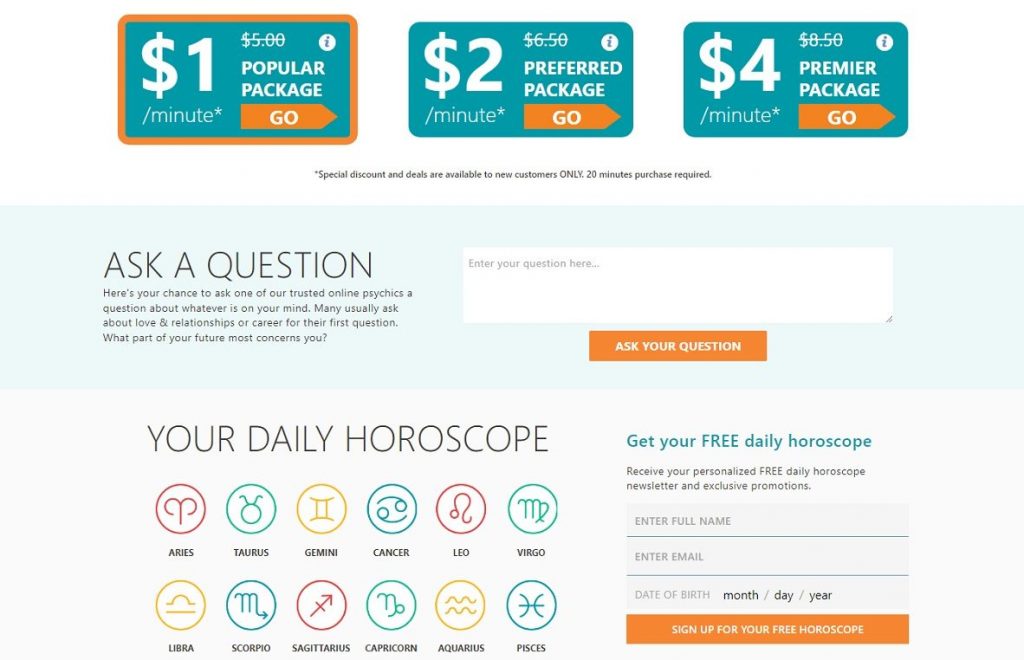 California Psychics is notable for the sheer number of services that they provide. They have psychic advisors who specialize in everything from astrology to crystals to tarot cards, as well as psychics who use no tools at all. The rates on this platform start at $4 per minute, but they also offer volume-based discounts if you buy at least 20 minutes upfront. Another benefit to using this service is that they offer free horoscopes and a birth chart calculator. The biggest drawback to California Psychics is that they only offer text and voice options for connecting with their advisors — no video chat option is available.
California Psychics Overview
Number of psychics
350+
Service offerings
Astrology, tarot, numerology, runes, i-ching, crystals, pendulum, oracle cards, dream analyst, remote viewing, automatic writing, clairaudient, clairsentient
Specialities
Love & relationships, money & finance, career & work, pets & animals, destiny & life path
Pricing
$4 to $15 per minute
Introductory offer
Not listed
Reading format
Text, voice
Life Reader — Best Introductory Offer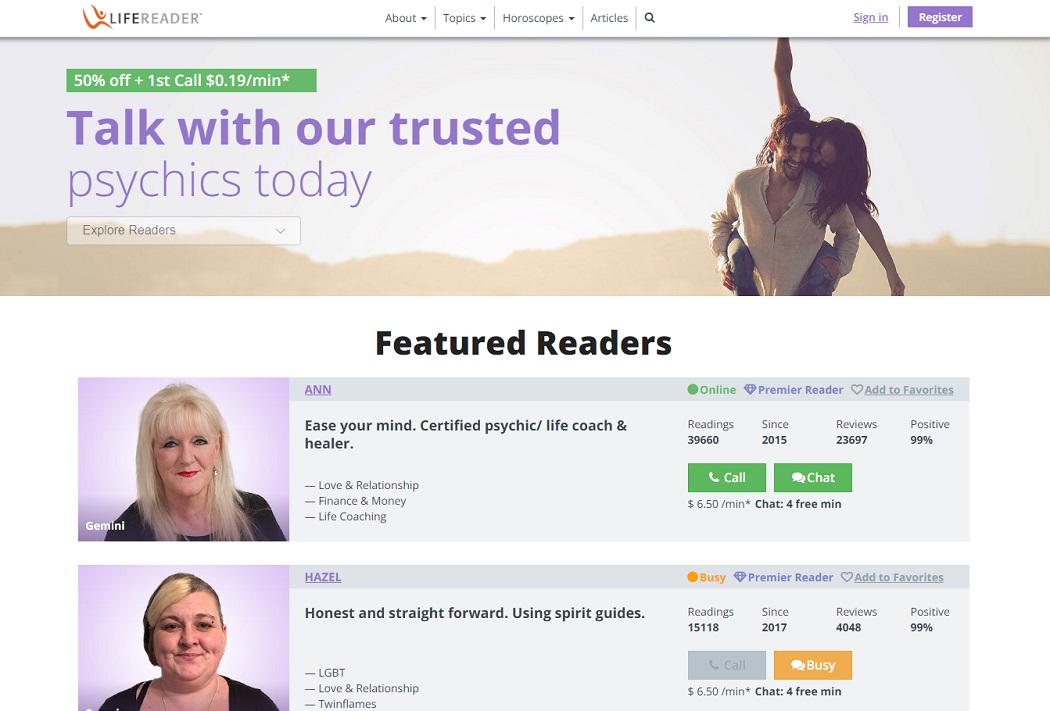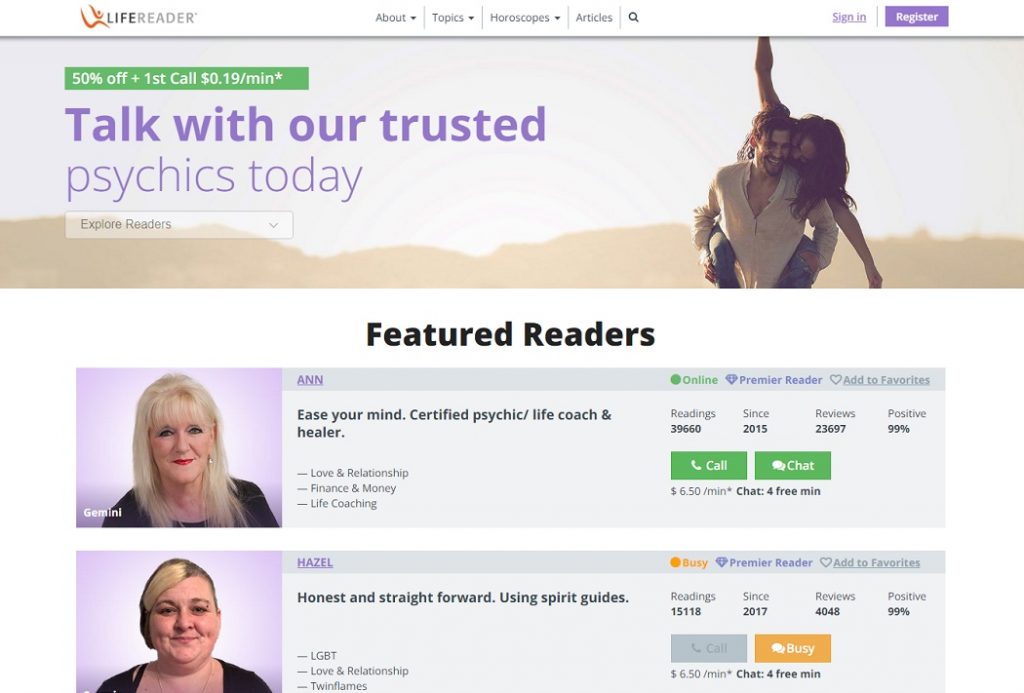 Life Reader stands out as one of your most affordable options, as none of their psychics charge more than $6.50 per minute. They also provide a lot of value with their introductory offer to new clients — for your first session with a psychic advisor, you'll only be charged $0.19 per minute for the first ten minutes. Even after that introductory offer runs out, you'll still get four free minutes with any psychic that you use for the first time. This allows you to test out different advisors without making much of a financial commitment until you find the right fit. But it should be noted that Life Reader only offers text and voice options for connecting with their psychic advisors. If you prefer video chat, you'll need to use one of your other options.
Life Reader Overview
Number of psychics
82
Service offerings
Psychic readings, tarot readings, horoscope readings
Specialities
Love & relationships, career & work, finance & money, life purpose, spiritual guidance, family advice, infidelity, LGBTI
Pricing
$3.50 to $6.50 per minute
Introductory offer
First call is $0.19 per minute for the first ten minutes
Reading format
Text, voice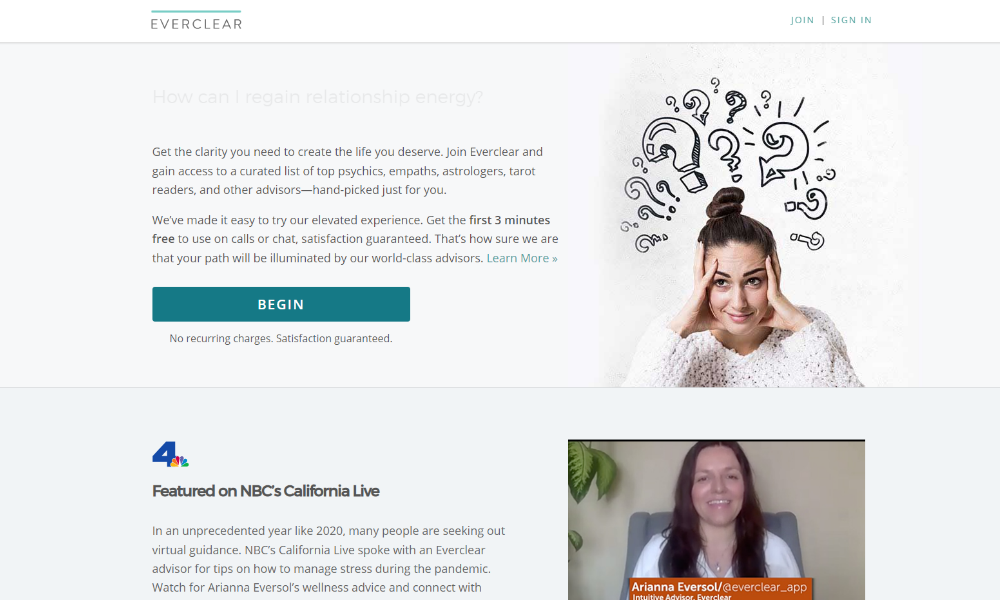 While Everclear does allow you to browse through the advisors that are available on their psychic reading online platform, what makes them unique is that they can hand-pick a psychic for you based on your specific needs as well. Everclear's rigorous screening and testing process ensures all advisors on its system are vetted to give you a quality reading. They also have a generous satisfaction guarantee, as you can get up to $25 in refund credits if you're not happy with a conversation. And Everclear stands out as a particularly good option if you plan to connect with psychics on a smartphone or tablet — their mobile experience is exceptional, with an average rating of 4.1 out of 5 on Google Play and 4.8 out of 5 on the Apple App Store.
Everclear Overview
Number of psychics
Not listed
Service offerings
Empath, astrology, numerology, tarot reading
Specialities
Love & relationships, destiny & life path, money & finances, wellness, career, lost loved ones, pets
Pricing
$1.81 to $19.98 per minute
Introductory offer
First three minutes are free
Reading format
Text, voice
How Much does an Online Psychic Reading Cost?
Whichever platform you use, psychic advisors are generally able to set their own rates, so you will find that there are many different pricing options available. Some psychic service providers do have minimum and maximum rates, though. On the most affordable platforms, such as Mysticsense and BitWine, you can find prices lower than $1 per minute. Then there are providers like the aforementioned Psychic Source, where the lowest rate available is $4.99 per minute.
As for the other end of the price spectrum, you can find advisors on platforms like Kasamba who charge as much as $29.99 per minute.
Avoiding Psychic Scams
While we only featured psychic reading services with rigorous screening processes, you should still keep an eye out for fraud. Unfortunately, it is rather common for con artists to pretend to be psychics for monetary gain. But once you know the warning signs to look out for, you'll be able to avoid such scams and find a psychic who is truly able to provide the help you need.
How Does a Psychic Reading Work?
A psychic reading is a service that involves someone with heightened extra-sensory perceptive abilities using this talent to discern information for you. As mentioned above, there are many different types of psychic services. Some psychics use tools such as crystals or tarot cards, while others use no tools at all. There are also psychics who specialize in specific subject areas, such as improving your personal relationships, advancing your career, or even helping you locate lost objects.
There are several ways to connect with psychics online. Almost all online psychic reading platforms provide you with text and voice chat options. Ideally, there will be a video chat option as well. Another option that's available with some providers is having conversations with psychic advisors via email.
In addition to the communication method, you should consider factors such as the per-minute rate and specialties when selecting a psychic advisor. Most platforms also provide you with customer reviews for each psychic — this is an excellent resource for evaluating whether or not a psychic is worth what they charge.
Using these services is simple. Once you've found an advisor that you want to try out, you'll then need to create an account and add your payment information. After you select a psychic, you may be able to connect with them immediately if they are currently online. Otherwise, you should be able to send them a message, or there may be a calendar tool that you can use to schedule an appointment for later.
What Do Psychics Ask For When Preparing for Your Session?
Depending on the platform, you may need to provide your psychic advisor with some background information before your session. Psychic advisers frequently provide a variety of services, so knowing whether or not they'll need to set up an additional tool in advance is preferable. For the purpose of expediency, they may also inquire about the most fundamental aspects of your life.
You should do some preparing yourself. Even if you use one of the more affordable advisors available, when you're being charged by the minute the cost of a conversation can quickly add up. Before you start your session, give yourself some time to think about exactly what you're looking to get out of this experience. If you have multiple goals, we recommend that you prioritize these items and write them down as a numbered list. This will help you maintain your focus and get the most value out of your session.