The Best Psychic Phone Readings of 2023

Contributing expert: Dr. Sam Youssef, Ph.D. - Updated: Feb 16, 2023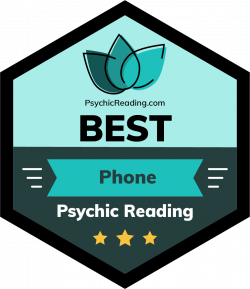 We've selected Psychic Source as the top online platform for psychic phone readings, as they offer a generous customer satisfaction guarantee and a particularly rigorous screening process. But even with these advantages, Psychic Source may not be the best option for your specific needs. That's why we've reviewed four other psychic platforms that are well worth checking out below.
Top 5 Online Psychic Phone Reading Websites to Try
How We Chose the Best Online Psychic Phone Reading Website
We reviewed a total of 25 online psychic reading websites in order to determine which five providers are the best for phone readings. To narrow these options down to our top five selections, we evaluated each psychic reading online platform using the following criteria:
Rigorous screening process

We made sure to only include providers with transparent, robust screening processes in this guide. Any sites that did not mention their screening processes at all were cut from the list.

Transparent privacy policy

We also made sure to only include providers with strong privacy policies. You'll be sharing payment details as well as private information regarding your personal life with whichever psychic platform you choose, so it's important for these services to be able to protect their data.

It might take some time for you to find a psychic advisor that you're fully comfortable with. Ideally, the platform you choose will allow you to reduce the cost of finding your regular psychic by offering some sort of refund or credit whenever you are unsatisfied with a session.
Our Online Psychic Phone Reading Reviews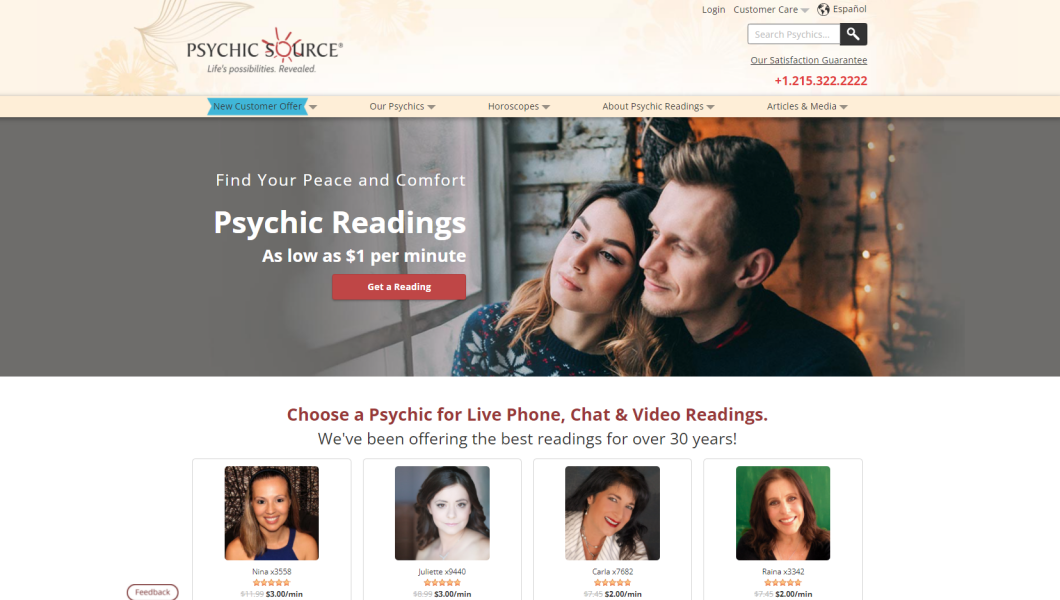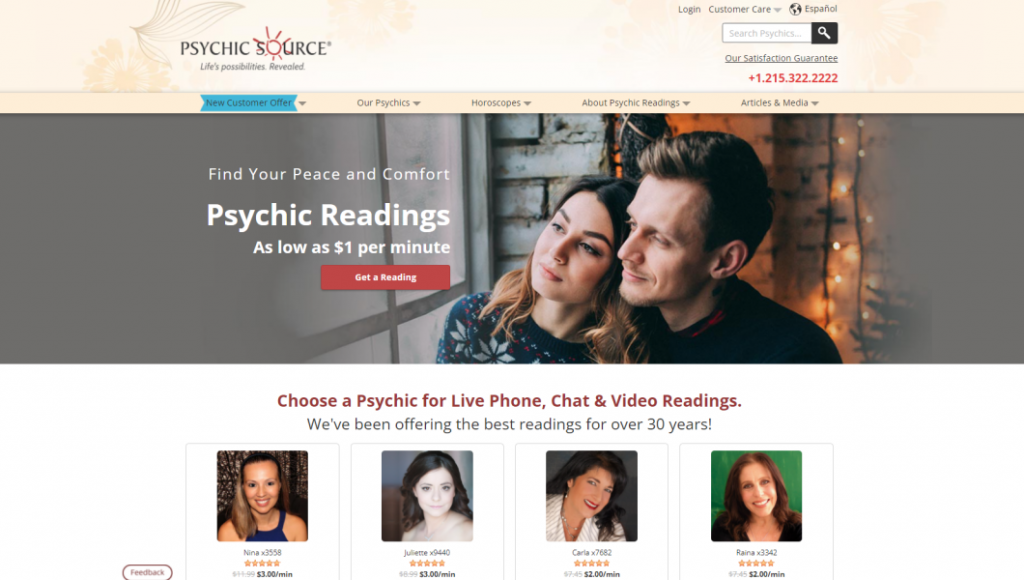 There are more than 200 advisors on Psychic Source who allow you to connect with them over the phone. Also, Psychic Source has one of the most rigorous screening processes in the industry — those who apply must first pass a one-way recorded interview, and then they'll still need to perform several test readings before they are approved. Given this process, you can be confident that any advisor you choose on Psychic Source will be highly skilled and experienced. Another bonus is that if you are ever unsatisfied with your most recent reading, Psychic Source will provide you with a credit of up to 20 free minutes toward your next session. But if you're especially concerned about saving money, you may want to check out your other options. None of the psychics on this platform charge less than $4.99 per minute.
Psychic Source Features
Number of psychics
272
Service Offerings
Career Psychic, Clairaudient, Clairsentient, Clairvoyant, Energy Healing, Intuitive/Empath, Love Psychic, Pet Psychic, Psychic Medium
Specialties
Career & Finance, Destiny & Meaning, Loss & Grieving, Love, Relationships & Family
Pricing
$4.99 to $18.99 per minute
Introductory offer
Discounted rate of $1.99 per minute for up to 30 minutes, plus three free minutes
Reading format
Text, voice, video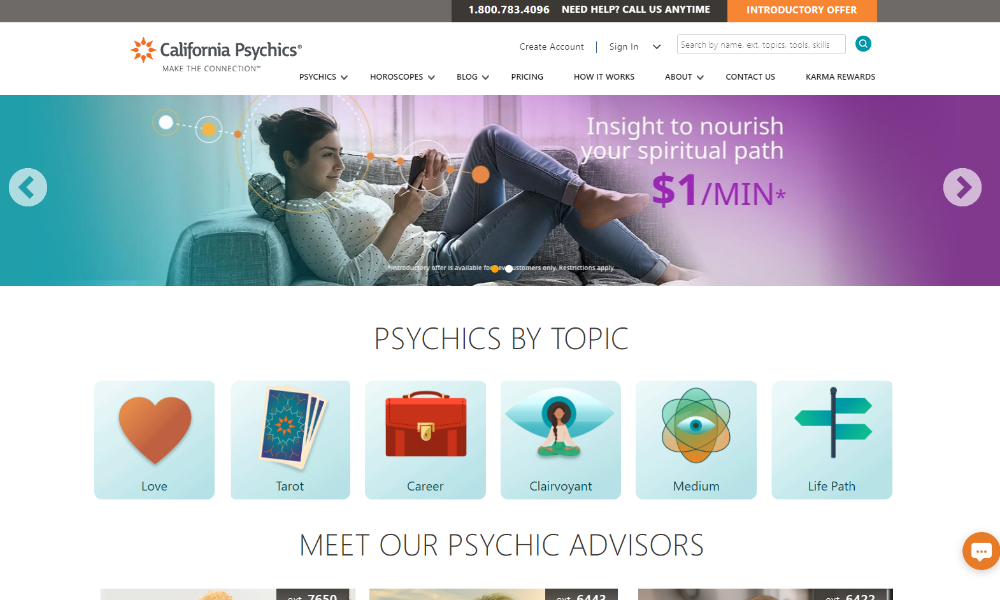 California Psychics is another option that offers hundreds of advisors who can talk to you over the phone. They are notable for the variety of services that they provide — there are advisors on this psychic reading online platform who specialize in astrology, tarot cards, remote viewing, automatic writing, and many other areas of psychic practice as well. But with a minimum rate of $4 per minute, this is also another option that the most budget-conscious users will likely want to avoid.
California Psychics Features
Number of psychics
350+
Service Offerings
Astrology, Automatic Writing, Clairaudient, Clairsentient, Crystals, Dream Analyst, I-Ching, Numerology,  Oracle Cards, Pendulum, Remote Viewing, Runes, Tarot
Specialties
Career & Work, Destiny & Life Path, Love & Relationships, Money & Finance, Pets & Animals 
Pricing
$4 to $15 per minute
Introductory offer
Not listed
Reading format
Text, voice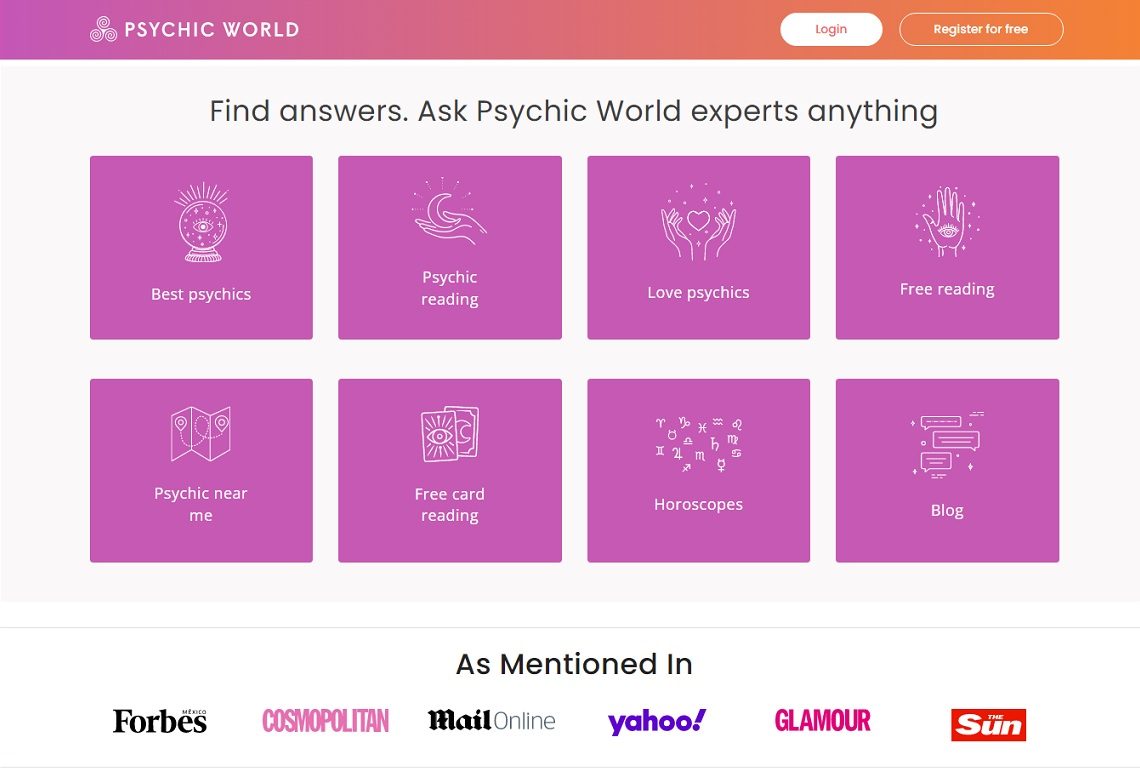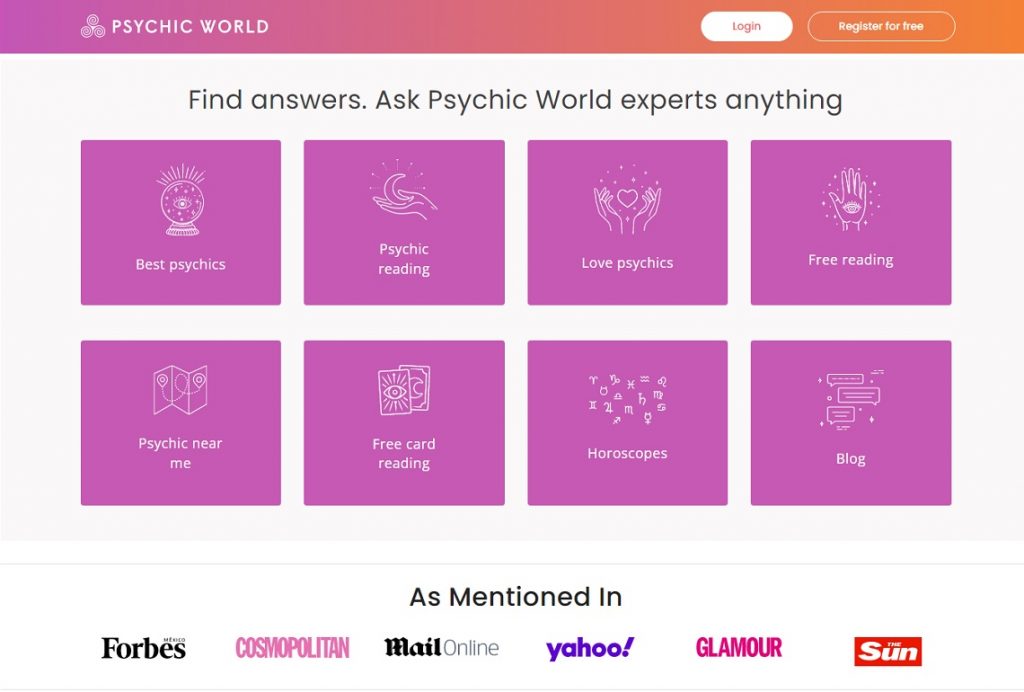 With rates as low as $1 per minute, Psychic World stands out as the most affordable provider featured in this guide. Another benefit to using this service is their rigorous screening process, which involves a background check, a social media review, and several rounds of test readings. While the chats on Psychic World are text-based by default, you have the option to initiate a voice call or live video stream during your session with an advisor. You should be aware, though, that these voice calls and video streams are only available when you're on your desktop or laptop — the mobile version of this platform is text chat-only.
Psychic World Features
Number of psychics
105
Service Offerings
Clairvoyant, Psychic Medium, Psychic Reading, Tarot
Specialties
Breakups & Divorce, Career & Work, Deceased Loved Ones, Family & Friends, Infidelity, Love & Relationships, Money & Prosperity, Spirit Guides
Pricing
$1 to $6 per minute
Introductory offer
Not listed
Reading format
Text, voice, video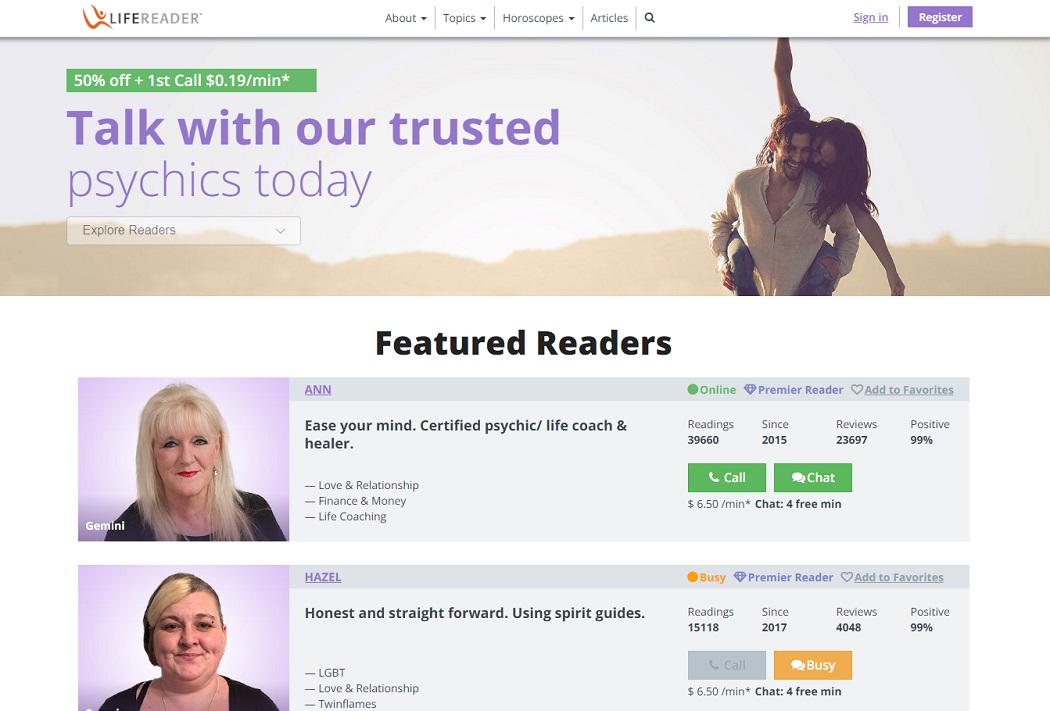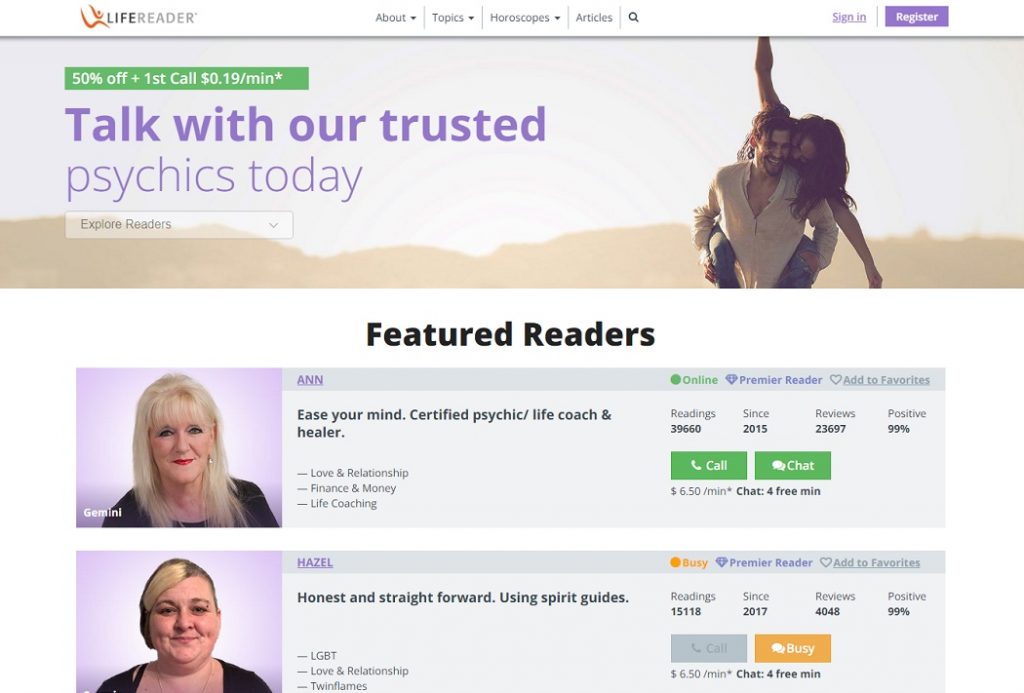 If you're new to psychic readings, it's worth noting that Life Reader allows you to try their service out at an exceptionally low cost — with their introductory offer, the first 10 minutes of your initial reading are only $0.19 per minute. And after that, you'll also get four free minutes any time you try out a new advisor for the first time. Beginners might not know exactly what they're looking to get out of this experience, and Life Reader's pricing policies make it more financially feasible to keep testing different options until you find the right fit.
Life Reader Features
Number of psychics
81
Service Offerings
Horoscope Readings, Psychic Readings, Tarot Readings 
Specialties
Career & Work, Family Advice, Finance & Money, Infidelity, LGBTI, Life Purpose, Love & Relationships, Spiritual Guidance
Pricing
$3.50 to $6.50 per minute
Introductory offer
First call is $0.19 per minute for the first 10 minutes
Reading format
Text, voice
Everclear — Best Mobile Experience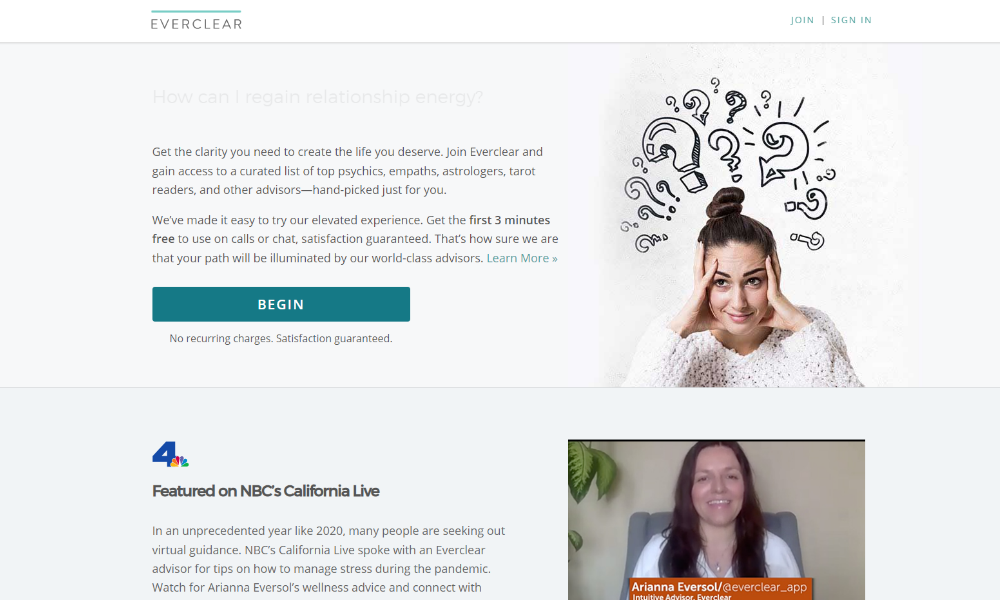 Unlike most psychic service platforms, which only allow you to select your own advisor, you can opt to have Everclear select an advisor for you based on your specific needs. Everclear can be quite affordable, with rates starting at $1.81 per minute (though some advisors on the platform charge as much as $19.98 per minute). Also, this provider's mobile app is exceptionally well-reviewed, with an average rating of 4.1 out of 5 on Google Play and 4.8 out of 5 on the Apple App Store. Anyone who plans to communicate with their psychic while they're away from home should strongly consider this option.
Life Reader Overview
Number of psychics
Not listed
Service offerings
Astrology, Empath, Numerology, Tarot Reading
Specialities
Career, Destiny & Life Path, Lost Loved Ones, Love & Relationships, Money & Finances, Pets, Wellness
Pricing
$1.81 to $19.98 per minute
Introductory offer
First three minutes are free
Reading format
Text, voice
Advantages of a Psychic Phone Reading
Most online psychic platforms offer text chat and phone reading options for communicating with their advisors, and some offer video chat as well.
While text chat can be an effective way to hold psychic sessions, many find that this method makes it difficult to form a personal connection with their psychic. Reading text can feel cold and detached compared to hearing someone's voice. When you're chatting with a psychic, especially if you plan to discuss private information about your personal life, there's a good chance that you'll find a phone conversation preferable to text.
Of course, video chat is even more personal than using the phone. But some may find that this method is too personal for their taste. Discussing deeply important aspects of your life such as your relationships and your future can be stressful, and having to worry about your physical appearance as well as looking someone else in the eye might make it even more so.
Indeed, for many clients of psychic services, phone readings are the perfect middle ground between the impersonal nature of text chat and the intimidating face-to-face intimacy of video chat.
Different Types of Phone Readings
Even though you won't be communicating with your advisor face-to-face, there are still a variety of services available through phone readings, including:
Love readings: Some advisors offer general psychic guidance to their clients, while others specialize in particular aspects of life. One of the most common specialties is love and relationships — through a phone conversation, your psychic can address topics such as resolving issues with your partner or dealing with the aftermath of a breakup.
Money readings: In addition to psychics who specialize in personal relationships, there are psychics who can help you advance your career and manage your finances. l
Tarot readings: Many psychics use tarot cards to help them discern information about your past, present, or future. While you won't be able to see the cards on your end of the conversation, this exercise can still be performed over the phone.
Astrology readings: With this type of psychic service, your advisor uses the time and location of your birth to foresee your future or help you better understand yourself. Psychics can collect all the information they need for astrology readings through voice chat — video isn't necessary.
How Much Does a Psychic Phone Reading Cost?
The price of receiving a psychic reading online depends on which platform you use as well as which advisor you select on your particular platform. You'll find that a variety of prices are available, as most platforms allow advisors to set their own rates.
Each of these providers has a minimum rate, though — and this is where you can find savings if budget is your main concern. For example, there are providers such as Psychic World and Mysticsense that offer phone readings for as low as $1 per minute. On the other hand, there are platforms like Psychic Source and California Psychics that don't offer anything lower than $4 per minute.
Where can you get a free psychic phone reading?
If you're using a platform for the first time, you can usually take advantage of free or reduced-price minutes through an introductory offer. Mysticsense offers one of the most generous offers with five free minutes for your first call, and Everclear provides you with three. It's also worth mentioning again that even after you've used up your introductory offer, Life Reader gives you four free minutes any time you try out a new advisor.
What You Should Know Before Consulting a Phone Psychic
When looking for a psychic counselor, you must constantly be on the lookout for scams. People who want to make money rather than aid others flock to this sector. In the end, it's important to be aware of the warning indicators to look out for, so that you can separate the scam artists from the genuine psychics and avert the risk of fraud.